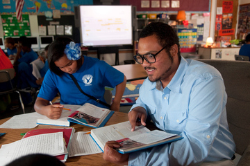 12/03/2019

Anne Burns Thomas, professor in the Foundations and Social Advocacy Department, and James A. Felton III, SUNY Cortland's chief diversity officer, co-authored a story that appeared in the December 2019 issue of Insight Into Diversity.
The story, "SUNY Cortland Program Places Qualified Teachers of Color in Urban Schools," focuses on Cortland Urban Recruitment of Educators (C.U.R.E.), a unique teacher recruitment effort that encourages students who are African American, Hispanic and Latinx, Native American or are from economically disadvantaged backgrounds to become K-12 educators in underserved urban schools.
Since the program was launched in 1998, more than 125 Cortland students have graduated from C.U.R.E. Nearly 95% have completed or are working toward a two-year teaching commitment in urban schools and three out of four continue their urban teaching career beyond two years.
C.U.R.E. thrives thanks to tuition support, the real-world teaching experience gained by college students and the formal mentoring from faculty, staff and the C.U.R.E. graduate assistant.
In other news:
---