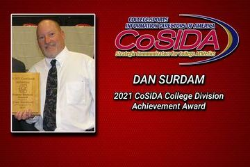 03/09/2021

SUNY Cortland Associate Sports Information Director Dan Surdam has been selected as the winner of the 2021 College Sports Information Directors of America (CoSIDA) College Division Achievement Award.
The award is presented annually to two CoSIDA members nationally – one in the College Division (NCAA Divisions II and III, NAIA, two-year colleges, Canadian/U Sports) and one in the University Division (NCAA Division I). Recipients are current associate or assistant directors in the sports information field with at least 10 years of experience who have made outstanding contributions to the profession and have provided exceptional service to their institution, conference office or intercollegiate athletics affiliated association.
Surdam, currently in his 21st year at Cortland, received the Fraser Stokes Award in 2017 for service and dedication to SUNY Cortland Athletics. He serves as the sports information office's primary media contact for men's and women's soccer, men's and women's ice hockey, men's and women's lacrosse, field hockey and wrestling.
Surdam has overseen the production of the sports information department's athletics publications and produces most of the online historical and student-athlete biographical content for the Cortland Athletics website. He handles public address duties for numerous Red Dragon sports and produces game programs for most of Cortland's home athletic events. Surdam has emceed the Cortland Athletics Awards banquet since 2012 and was the emcee at the 2008 NCGA Women's Gymnastics pre-championship banquet.
A native of Skaneateles, Surdam graduated from Syracuse University's S.I. Newhouse School of Public Communications with a bachelor's degree in writing for television, radio and film. He came to Cortland with extensive experience in media and public relations, and he earned an Outstanding Radio Commercial Award from the New York State Broadcasters Association in 1997. In addition, Surdam is the author of the mystery/thriller novel "The Presence of Grace" and has penned a number of screenplays.
CoSIDA will present a feature story on Surdam in either March or April and plans to release a pre-recorded interview with him in May as part of CoSIDA Awards Month. The CoSIDA special awards are normally given at the organization's annual summer convention, but that event has been changed to a virtual workshop due to the current COVID-19 pandemic.
---