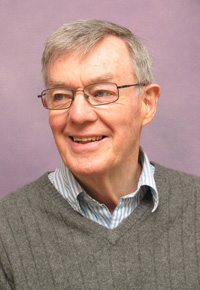 01/26/2012

Daniel Driscoll of Fabius, N.Y., who served the Mathematics Department at SUNY Cortland for almost 50 years, retired on Jan. 1, 2012. He has been designated professor emeritus of mathematics.
Born and educated in Syracuse, N.Y., Driscoll earned a bachelor's degree from the University of Toronto in Canada, a master's degree from Bowdoin College, and a doctorate from Syracuse University.
He taught mathematics and coached basketball and football at Fabius High School for seven years before joining the College in 1962, continuing a teaching career that has spanned nearly 57 years.
Driscoll was promoted to associate professor in 1974 and professor in 1983. He chaired the Mathematics Department for six years, from 1989 until 1995, and served for two years as assistant dean of arts and sciences.
His research on "Simplified Users Manual for computer Programs in Statistics" was supported by a SUNY Cortland alumni association grant. Driscoll was author or co-author of scholarly articles that appeared in the Home Economics Research Journal, New York State Association of Health, Physical Education and Recreation Journal, the American Journal of Clinical Nutrition, the Journal of the American Dietetic Association and the Council on Renal Nutrition Quarterly.
He served on oral examination committees and as an external reader for doctoral degree candidates at Syracuse University.
Driscoll and his wife, Sylvia, plan to travel and enjoy the company of their three children and 10 grandchildren.
---