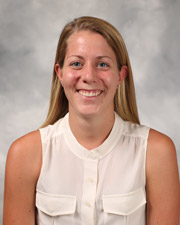 06/30/2015

Jaclyn Lawrence has been appointed Assistant Director of Athletics for Events, Marketing and Development at SUNY Cortland, according to Director of Athletics Mike Urtz. Lawrence served as Cortland's interim Assistant AD for Internal Operations during the 2014-15 school year.

Lawrence earned a bachelor's degree in physical education from Cortland in 2012 and a master's degree in sport management in 2014. She worked during the 2013-14 school year as an athletic operations intern at Cornell University, where she managed home competitions and scheduled facilities, event staff and officials. In addition, she served as a volunteer assistant coach with Cortland's women's volleyball team in 2013-14 and completed an independent work study position in the State University of New York Athletic Conference (SUNYAC) office in the spring of 2013.

From 2008-11, Lawrence was a member of Cortland's volleyball squad that posted a combined 131-33 record and won two SUNYAC titles. As a captain in her senior year she led the Red Dragons in digs as the team advanced to the NCAA Div. III quarterfinals.

The Marilla, N.Y., native was a modified boys' volleyball coach in the Eden (N.Y.) School District in the fall of 2012 and an assistant varsity girls' lacrosse coach in the Lancaster (N.Y.) School District in the spring of 2012.
---