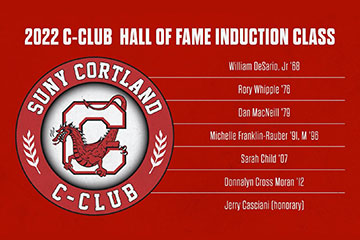 07/19/2022

Seven new members will be inducted into the SUNY Cortland C-Club Hall of Fame during its annual ceremony on Saturday, Sept. 10. The 2022 honorees are:
William DeSario, Jr. '68, wrestling
Rory Whipple '76, men's lacrosse, wrestling
Dan MacNeill '79, football (player and head coach)
Michelle Franklin-Rauber '91 M '96, women's cross country/track and field
Sarah Child '07, field hockey
Donnalyn Cross Moran '12, softball
Jerry Casciani (honorary), men's lacrosse head coach; football, wrestling and men's lacrosse assistant coach; Associate Professor Emeritus of Physical Education
In addition to Saturday night's official ceremony, the inductees will be introduced at halftime of the Cortland football game versus The College of New Jersey earlier that afternoon.
Information for those interested in attending Saturday's induction dinner will be posted soon.
Established in 1969, the C-Club Hall of Fame recognizes Cortland alumni who competed as athletes at the College and who have since distinguished themselves in their professions and within their communities. Honorary members are recognized for their long and significant contributions to SUNY Cortland athletics. New C-Club members have been added annually and this year's ceremony will bring the Hall of Fame roster to 282 alumni and 32 honorary members.
Nominations for the 2023 C-Club Hall of Fame voting will be accepted until January 15, 2023. The nomination form is available online at: http://www.cortlandreddragons.com/nominations. A person must be nominated to be considered for induction into the Hall of Fame.
A detailed look at this fall's inductees will be posted later this summer.
---