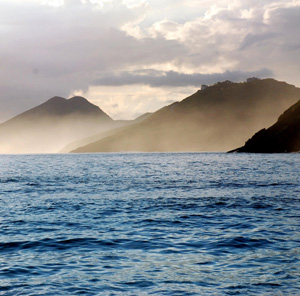 10/02/2013

Islands are where many migrants and asylum-seekers around the world first land in their pursuit of safety and freedom.
But for many, the archipelagos become a physical and legal trap.
Geographer Alison Mountz will explore the processing and detention of these would-be immigrants on Wednesday, Oct. 23, at SUNY Cortland.
Mountz, an associate professor of geography with the Balsillie School of International Affairs at Wilfrid Laurier University in Waterloo, Ontario, Canada, will discuss "Island Detentions: Migration, Enforcement and Struggles Over Asylum" at 4:30 p.m. in Moffett Center, Room 2125.
Her talk continues the 2013-14 Rozanne M. Brooks Lecture Series at SUNY Cortland. This year the Brooks lectures take on the theme of "Cultures in Conflict, Pathways to Resolution," featuring upcoming presentations ranging from women's involvement in the Arab Spring to the ongoing conflicts between Turkey and Europe, to how domestic policy on crime sometimes creates even more conflicts.
A reception to welcome Mountz starts at 4 p.m. in the Rozanne M. Brooks Museum, Moffett Center, Room 2126.
Alison Mountz
This event, and others in the Brooks series, is free and open to the public.
Mountz, who holds her school's Canada Research Chair in Global Migration, has focused her studies on the peripheral edges of sovereign territory where migrants try to land, work and seek asylum. These islands are significant for border authorities, raising complex issues surrounding legality, sovereignty, governance and exclusion. She will describe how migrants and asylum-seekers are kept, literally, at the margins of the countries in which they seek refuge.
Mountz is the author of a book, Seeking Asylum: Human Smuggling and Bureaucracy at the Border (Minneapolis: University of Minnesota Press, 2010); and the co-author of a second, Key Concepts in Political Geography (Thousand Oaks: Sage, 2009).
Before joining Wilfrid Laurier University, she was an associate professor in geography at the Maxwell School of Public Administration and International Affairs at Syracuse University from 1998 to 2003.
Mountz also served as a W.L. Mackenzie King Research Fellow in the Canada Program and a visiting associate professor at Harvard University.
She graduated magna cum laude from Dartmouth College with a B.A. in Latin American and Caribbean studies. At Dartmouth, she was a Presidential Scholar, a Sociology Senior Fellow and was inducted into Phi Beta Kappa. She pursued graduate work in geography, earning a Ph.D. from University of British Columbia and an M.A. from Hunter College.
The 2013-14 Brooks Lecture Series is sponsored by a grant from Auxiliary Services Corporation (ASC) and the Cortland College Foundation. For more information, contact Professor of Sociology/Anthropology Sharon R. Steadman, the lecture series organizer and Brooks Museum director, at 607-753-2308.
---