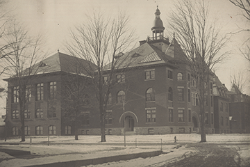 03/26/2019

If a sign of being famous means having your very own biographer, then Henry S. Randall, the late founding president of the Cortland Normal School, is a historic celebrity.
Richard Schieffelin '75, an historian, lecturer and SUNY Cortland graduate in history who is working on Randall's biography, will deliver a lecture supported by photos and illustrations on SUNY Cortland's transformational early leader Wednesday, April 10, at the College. The event is part of the College's yearlong Sesquicentennial Celebration, marking 150 years since its beginnings as Cortland Normal School.
Schieffelin, who also completed graduate studies in American history at the University of Wisconsin-Madison, will discuss "Henry S. Randall (1811-1876) Founding President of the Cortland Normal School and Leading Advocate for Public Education in Nineteenth Century America."
The talk, from 6 to 7:30 p.m. in Brockway Hall Jacobus Lounge, is free and open to the public.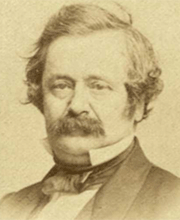 Randall, who was himself a respected biographer of former U.S. President Thomas Jefferson, was president of the Normal School's initial board of managers, which operated the school. The former New York secretary of state and Cortland County superintendent of schools was also one of Cortland's few early citizens to earn national fame.
The Randall Farm was a center for experimentation by the self-described Jeffersonian Democrat, and he wrote many works on agriculture. When Jefferson's descendants chose Randall to write a biography of the Virginian, Randall gained full access to all the letters and records at Jefferson's estate at Monticello. His 1858 book Life of Jeffersonwon him wide acclaim and remained a standard work well into the 20th century.
Biographer Schieffelin's family connections to the Cortland community date back to Randall's era in the 19th century, said Richard Powell, event organizer and an instructional services librarian at SUNY Cortland.
"This subject should appeal to any with an interest in the first few years of the Normal School, history, education or even agriculture," Powell said.
Schieffelin was born in Cortland and raised in Syracuse, N.Y. After graduating from Wisconsin he moved to northern Virginia where he worked for 33 years in the aerospace industry. Schieffelin retired early to devote himself full-time to completing the biography of Randall. He lives in Virginia with his wife, Josie.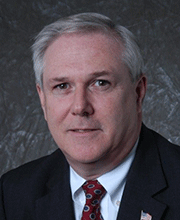 "While continuing his archival research, Rick has shared preliminary findings and interpretations with a number of Cortland audiences," Powell said.
In 2016, Schieffelin lectured to several Cortland and Syracuse groups on "The Jefferson-Hemings Controversy and Henry S. Randall: the Making of a Family Defense." Between February 2016 and August 2017, Schieffelin wrote a series of five short articles on Randall that appeared in The Bulletin of the Cortland County Historical Society.
"I first met Rick Schieffelin when we were reviving the College Archives at Memorial Library a few years ago," Powell said.
From that first meeting, Powell was able to find materials for Schieffelin as he pursues his biography.
Memorial Library recently upgraded its College Archives collection, hired Jeremy Pekarek as the first full-time archivist and instructional services librarian and began to actively encourage the public as well as the campus community to use its historical resources just as Schieffelin has done.
Schieffelin's talk is presented by the College's Memorial Library, with funding from a Sesquicentennial Planning Committee grant.
"I sought a Sesquicentennial Grant to bring him to campus to talk about his favorite subject," Powell said.
For more information on the lecture, contact Powell at 607-753-2289.
SUNY Cortland's yearlong celebration of its 150th anniversary began last July 14 and runs through Alumni Reunion 2019, July 11 to 14. To learn more about the College's historic year, take a tour of the College timeline and purchase a College history book at cortland.edu/150. For more information on the SUNY Cortland Sesquicentennial, contact Sesquicentennial co-chairs Mary Kate Morris '06 or Erin Boylan. Alumni should check for email from the alumni association or visit RedDragonNetwork at RedDragonNetwork.org for updates about planned events.
---