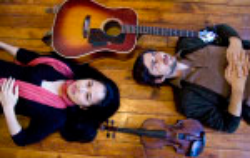 03/27/2013

Journey to Ireland for a night without ever leaving town on Tuesday, April 16, at SUNY Cortland.
The Celtic music duo Dana Lyn and Kyle Sanna will play traditional Irish songs combined with original compositions and improvisations at 7 p.m. in Corey Union Exhibition Lounge.
The performance by "Dana and Kyle" is presented by the College's Campus Artist and Lecture Series (CALS). Admission is $3 for SUNY Cortland students and $5 general admission. Children 10 and under will be admitted free.
Tickets for the event can be purchased in Corey Union, Room 406, or beginning one hour prior to the performance at the venue. All seating is general admission.
Fiddler Dana Lyn and guitarist Kyle Sanna share an enthusiasm for classical, world and experimental music as well as deep admiration and respect for Irish music. They have a broad range of musical influences and experience, which is emulated in their compositions.
"Mysterious, playful and charming with some lovely musical surprises," noted acclaimed fiddler Kevin Burke. "Excellent musicianship and skillfully fascinating arrangements. . . . Bursting with creativity, yet still manages to convey a love for simplicity — a remarkable achievement."
The Celtic couple actively participates within the vibrant Brooklyn, N.Y., eclectic music scene. Both are arrangers, composers, players and improvisers of music. Together they have composed, "The Hare Said a Prayer to the Rainbow and Followed the Fox Down the Hole," a musical narrative that is both childlike, sophisticated and full of unexpected twists and turns.
Lyn, a violinist, pianist, arranger and composer, has made a number of musical contributions in the entertainment industry since graduating from Oberlin Conservatory. Throughout the past five years, the Brooklyn-based artist has altered her musical focus in order to develop her own compositional voice.
New York City's Town and Carnegie Halls, "The Conan O'Brien Show" and "Saturday Night Live" are among the locations at which she has played. Included among Lyn's extensive list of musical projects are popular Grammy nominated artist Florence and the Machine.
Lyn currently is performing in an off-Broadway Ethan Hawke play called "Clive." In the production, she plays the violin, piano and sound sculptures built into the set. Additionally, Lyn has taught music for more than 15 years in schools and colleges. She manages a private studio for violin and fiddle students.
Sanna, a guitarist and composer, has traveled around the world with a multitude of musicians and artists. He studied jazz at the University of Oregon and composition at the Université Lumière in Lyon, France.
As a composer, Sanna places special attention on scoring film, theater and dance. He is a Meet the Composer grant recipient and was a finalist in Turner Classic Movies' Young Film Composers Competition.
World-renowned cellist Yo-Yo Ma can be counted in Sanna's array of musical collaborations. The two arrangements he composed were featured on Ma's Grammy-winning, "Songs of Joy and Peace" album. Both arrangements have been performed by the famed cellist on television's "The Colbert Report."
Presently, Sanna is working with a Sydney-based artist on a "Cyborg string quartet" involving involuntary playing via Electric Muscle Stimulation.
CALS is funded by the student activity fee and grants from the Auxiliary Services Corporation, the Cortland Fund, the Cortland College Foundation and the Strategic Initiative Advancement Fund.
For more information about Dana and Kyle, visit the artists' Web site at danalynkylesanna.com. For ticket information or questions regarding CALS events, contact the Campus Activities and Corey Union Office at 607-753-5574 or visit the CALS Web page at cortland.edu/events/cals.
Needs of patrons with mobility challenges are accommodated through special seating assignments. Advance notice is appreciated.
---