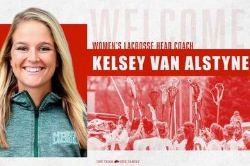 08/30/2021

Kelsey Van Alstyne has been named the women's lacrosse head coach at SUNY Cortland, according to director of athletics Mike Urtz. She replaces Kelly Orr, who coached the Red Dragons since 2015.
"It is an honor to be named the head women's lacrosse coach at SUNY Cortland," Van Alstyne said. "Having always considered Cortland one of the premier Division III institutions, being on campus confirmed the department's strong commitment to the student-athlete experience, as well as a cohesiveness amongst the entire college. There is a tradition of excellence within the women's lacrosse program and athletic department that I look forward to building upon.
"I would like to thank Mike Urtz, the search committee and everyone who met with me during the search process. This is an opportunity of a lifetime for my family, and I could not be more excited to get started!"
Van Alstyne served as head coach at Division II Slippery Rock University in Pennsylvania for four seasons from 2018-21. The winningest coach in program history, she guided The Rock to a combined 27-24 record, including a program-best 13-5 mark and a berth into the Pennsylvania State Athletic Conference (PSAC) tournament in 2018 for the school's second playoff showing in nearly 30 years.
Van Alstyne coached nine All-PSAC players, including the 2018 conference Player of the Year, along with six all-region and one All-America honoree. Her 2021 squad boasted a cumulative 3.53 grade point average. Under her guidance, Slippery Rock finished 2018 leading the nation in ground balls per game (29.06) while also ranking third in caused turnovers per game (14.78), third in save percentage (.535), 11th in goals allowed per game (8.78) and 22nd in win percentage (.722).
Prior to her tenure at Slippery Rock, Van Alstyne was the head coach at Morrisville State three years from 2015-17. She led the Mustangs to North Eastern Athletic Conference (NEAC) titles and NCAA playoff appearances in 2015 and 2017, while never posted a losing record. She was selected as the 2017 NEAC Co-Coach of the Year and she coached 20 All-NEAC selections, including the 2015 Player and Rookie of the Year and the 2016 and 2017 Defensive Player of the Year.
A native of Burnt Hills, N.Y., Van Alstyne also served as interim head coach at Buffalo State in 2014 after being an assistant coach the previous year. She led the Bengals to an 8-7 record, including a win over 16th-ranked Brockport as part of a schedule that featured six national top-20 teams. Van Alstyne also served as an assistant coach for one season at Ithaca College and one year as a strength and conditioning intern at Cornell University. During her season at Ithaca, the Bombers finished 7-0 in league play and the coaching staff was named the Empire 8 Women's Lacrosse Staff of the Year.
Van Alstyne, whose maiden name is Kelsey Schwan, graduated from Bloomsburg University in Pennsylvania in 2011 with a degree in exercise science and earned a master's degree in sport management from Cortland in 2014. Her collegiate athletic career began at West Chester University, where she played volleyball for one season and earned PSAC Scholar-Athlete honors. She transferred to Bloomsburg following her freshman year and played three years of lacrosse for the Huskies, serving two seasons as captain and earning Scholar-Athlete honors in each of those years.
In addition to her collegiate coaching experience, Van Alstyne also has coached USA teams in International competition in Australia, Germany and the U.K. for the last three years and has worked at various camps, including the Nike Cup.
Van Alstyne and her husband, Chris, have a one-year-old daughter, Adelynn. Chris, who is currently an assistant strength and conditioning coach at Cornell University, is a 2013 Cortland graduate and was a member of the Red Dragon football team during the 2011 and 2012 seasons.
---