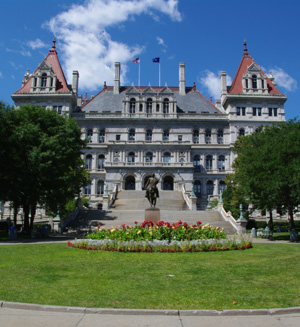 03/13/2012

Five SUNY Cortland students will play the role of New York state senator for a day when they take part in the CUNY/SUNY New York State Model Senate Session Project on Saturday, March 24.
The Latino/Hispanic heritage program, a joint project of CUNY's Edward T. Rogowski Internship Program and SUNY's Office of Diversity and Educational Equity, is part of the annual Somos El Futuro (We Are the Future) Conference in Albany, N.Y.
Approximately 60 CUNY and SUNY students will debate a proposed Senate bill at the New York State Capitol.
"This is such a powerful experience for the students," said Noelle Chaddock Paley, the College's director of multicultural life and diversity and the group's faculty advisor. Paley, along with SUNY Cortland senior Jose Valdez and staff members from the College at Brockport and Morrisville State College, helps prepare students for the Senate experience.
Prior to the mock session, each student is assigned a Senate district and briefed on a proposed bill. This year's bill proposes suspending the use of hydraulic fracturing for the extraction of natural gas and oil.
The students, sitting in the same Senate Chamber seats that belong to state senators, are allotted three minutes to speak on behalf of their districts before a vote is taken.
An evening gala with Latino/Hispanic politicians caps the Senate simulation.
The five SUNY Cortland students who will act as senators this year include: Vanessa Cruz, a senior Spanish and international studies major from Inwood, N.Y.; Phoebe Felix, a sophomore business economics major from the Bronx, N.Y.; David Paulino, a freshman international studies major from the Bronx, N.Y.; Jonathan Rodriguez, a junior international studies major from Yonkers, N.Y.; and Davante Saba, a freshman exercise science major from New York City.
Valdez, the student coordinator and a business economics major from the Bronx, N.Y., became the first SUNY Cortland student to attend the conference two years ago. A sophomore at the time, he was the College's lone representative in 2010.
"I'll admit, it was scary at first," said Valdez, who went on to participate with other students in 2011. "Like a lot of college students, I didn't know a lot about politics. It seemed like an opportunity that a lot of people wouldn't normally take."
A brave opportunist, Valdez worked with Paley to verse himself in state politics. Both years, he researched the proposed bills thoroughly and prepared thoughtful speeches related to them.
Both years, however, he drew the role of one of the last senators to speak.
"If you're the first person to speak, you don't have to persuade; you just have to be well-spoken," said Valdez, who twice drew the role of a Republican senator. "I was always close to last, so I'd have to re-work this speech that I'd been working on for a month, right there on the spot.
"I've learned too much (about politics)," he joked. But more than the persuasion skill set he gained, the ability to network with other Latino/Hispanic students and politicians proved invaluable.
In his two years attending the conference, he's met former Gov. David Paterson and Yolanda Vega, the recognizable voice for the New York Lottery, and other well-known people.
"A lot of the big-time people you meet, they were once in our shoes," Valdez said. "They're Latinos you don't normally see in the media. They're people you can look up to, not just baseball players or basketball players or rappers."
Valdez's friends from the program have gone on to pursue internships in politics, healthcare and on Wall Street. He's planning to move on to graduate school, and he's already been accepted at Wake Forest University.
"We're a network," he said. "We stay connected."
Paley praised the student effort that keeps the Model Senate program running at SUNY Cortland.
"This year, for the first time, we had a very competitive applicant pool from which these students were chosen," she said. "Really, it's the student passion from Mr. Valdez and others that has kept driving this program at SUNY Cortland."
Developed in 1997 by CUNY, the Model Senate Session Project was launched at the request of the Puerto Rican/Hispanic Task Force of the New York State Legislature. The New York State Office of Diversity Equity and Inclusion funds the majority of the trip for SUNY students.
---