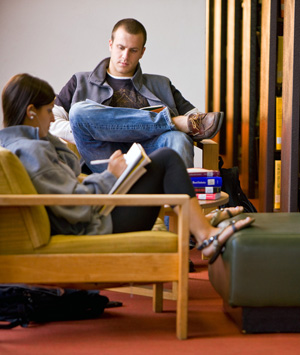 03/13/2012

When it comes to grade point average, SUNY Cortland's Greek organizations are dispelling any false stereotypes that may hover over fraternities and sororities.
That's because the collective GPA for Cortland's social Greek organizations, at 3.11, exceeded the College's average undergraduate GPA, at 2.99, during the Fall 2011 semester. Fraternities and sororities both earned average GPAs higher than their gender counterparts at Cortland.
"That's what I like to call the social Greek trifecta," said Sandra Wohlleber, the College's assistant director for campus activities and Greek affairs, referring to the fact that fraternity, sorority and total social Greek GPAs all exceeded the undergraduate average.
"One of the criticisms that's often laid out against any fraternity or sorority is that they're social groups, so they don't pay as much attention to their academics," Wohlleber said. "Parents are always asking: 'If my son or daughter joins this group, is it true that their grades are going to go down?'"
Matthew Budofsky, a senior adolescence education: social studies and history major, boasts an academic track record that emphatically rejects that notion. The former president of the Kappa Sigma fraternity carries a 3.86 GPA.
"Not to sound silly, but I'm here to go to school," Budofsky said. "Do we like to have fun? Of course. But school's always the first priority."
The Kappa Sigma chapter house on Tompkins Street is a far cry from the fictional Delta Tau Chi fraternity from the 1970s comedy film "National Lampoon's Animal House." Kappa Sigma's 29 members earned a 3.1 average GPA during the fall semester, tops among SUNY Cortland's three social fraternities.
"There's bound to be someone in the house to help you with your work if you need it, whether it's a quick question or whether it involves editing a paper," said Budofsky, who lives with four students pursuing the same major.
Greek GPAs at SUNY Cortland have climbed steadily since Wohlleber started working at the College in 2005, she said. Every semester, she uses a spreadsheet to track each Greek organization's average GPA. She then sends big-picture numbers, such as the number of GPAs that improved or declined, to fraternities and sororities.
"Obviously, there's something that's being done or something that's being said," Wohlleber explained. "Looking at the improvements — in terms of the numbers themselves and the attitudes of students within the groups — they've been rewarding."
Potential scholarships from national chapters motivate students, Wohlleber said. The same can be said for improved academic programming, which may include library study hours or peer tutoring.
Higher academic standards come with social Greek life, said Kathryn McKenna, a senior communication studies major from Pearl River, N.Y., and a member of the Alpha Sigma Alpha sorority.
"We like to suggest that our pledges go to study hours in the library," McKenna said. "It's not mandatory, because it could be interpreted as a form of hazing, but it demonstrates that we take pride in what we do."
With a 3.21 chapter GPA during the fall semester, Alpha Sigma Alpha's 59 members achieved the highest GPA among SUNY Cortland's five social sororities.
Besides the College's eight social Greek chapters, its single service fraternity, three Latino fraternities and new Latina sorority, Sigma Lambda Upsilon, have shown their academic promise. The 27-member Alpha Phi Omega service fraternity, for instance, earned a 3.22 GPA during the fall semester. Small participation numbers last fall didn't slow the Latino fraternities from showing overall GPA improvement while maintaining their pledge to campus service.
"It's so easy for any student organization, especially the Greeks, to get colored with a negative overtone," Wohlleber said. "That's why I'm so proud of them. Their performance academically, it's thrilling."
---