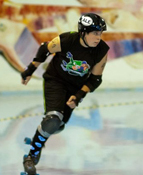 03/22/2012

All that Rachael Vallese needs is a pair of roller skates to prove that playing rough isn't just for men. After she gets her skates on, Vallese takes her no-fear mentality and sassy attitude to the arena where she coaches a women's roller derby team.
Vallese, a SUNY Cortland alumna who graduated in May 2011, will talk about her experiences as coach and owner of the B.C. Rollers Thursday, March 29, on WSUC-FM radio channel 90.5. The broadcast, which will include other members of Vallese's team as well as members of Cortland's Crown City Rollers, will air at 3 p.m. It also will stream live online at web.cortland.edu/wsuc/home.html.
Caroline Kaltefleiter, associate professor of communication studies, will host the broadcast, titled "How We Roll: A Conversation with Women in Roller Derby," as part of the College's Women's History Month 2012.
"Roller derby really taught me the importance of teamwork," said Vallese, who earned a B.A. in communication studies with a minor in women's studies. "When you are on a roller derby team, you rely a lot on your teammates. My team has become a family. We skate hard, we play hard and we love each other very much."
Roller derby is a full-contact sport played on roller skates with five women on each team. Teams are made up of jammers and blockers. Jammers skate quickly around the arena while the opposing blockers try to prevent them from passing their teammates. When a jammer passes a member of the other team, the jammer's team scores a point.
In a flash of motion, a member of the Binghamton County Rollers manuevers to take the lead.
Vallese, whose derby name is "Rusty Nailher," plans to discuss the significance of women in sports and its empowering capabilities.
"If you look to the beginning of sports, it's always been about men," she remarked. "Roller derby gives women an opportunity. We are taught that being aggressive is a masculine trait; in this broadcast, we want to shred those kinds of gender stereotypes."
Vallese and the other guests will address the modern woman in sports and her constantly evolving roles and "shifts." A woman's "first shift" is her career or paid employment. Her "second shift" is a feminist term referring to the unpaid housework and childcare responsibilities expected of many women when they come home from a full-time job. According to Vallese, involvement in sports creates a "third shift" for women.
The roller derby teams practice twice a week for three hours each day, year round. Since Vallese requires that players are to be on their skates for 10 hours a week, skating outside of practice is mandatory.
"We are a new league, but we are a serious league," Vallese said. "We all work really hard to make this thing succeed. It's not just a sport, it's a passion. Dedication to the sport is an absolute must."
One member of the Parlor City Tricks speeds on the perimeter of the rink, protected by her teammates.
With 20 years of speed skating under her belt, Vallese began playing roller derby with the Binghamton County Rollers in March 2011. The league is comprised of several teams. The Parlor City Tricks is the women's league, which is coached by Vallese and Felicia Smith, or "Malice in Chains." The youth team, The Savages, made up of girls ages 7 to 17 is also coached by Vallese alongside Nichole "Rampage," Rigal. A men's roller derby team is currently being developed.
The Binghamton County Rollers league gives back to its local community by volunteering at least once a month at events such as Relay for Life and Project Paws. The league also helped in the Binghamton, N.Y., and Sidney, N.Y., flood-relief cleanup.
A Women's History Month reception in the Corey Union Caleion Room will follow the broadcast. For more information, contact Kaltefleiter at (607) 753-4203.
---