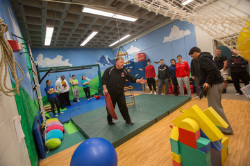 02/12/2019

For decades, SUNY Cortland has been committed to providing physical education teachers with the skills to reach students of all abilities.
The next generation of teachers will soon have a new tool at their disposal as an 800-square-foot expansion has added a multisensory environment (MSE) to the Sensory Integration Motor Sensory (SIMS) Lab located in Park Center.
A generous gift from the family of SUNY Cortland graduate Scott Williams '82 and a grant from the J.M. McDonald Foundation provided funding for the project. Equipment will be installed for the expansion during the Spring 2019 semester.
Multisensory environments provide both a stimulating and calming atmosphere for children who deal with sensory issues, including those with autism spectrum disorder. The unique multi-sensory lighting, auditory and visual effects can be controlled by the users, which allows them to comfortably enjoy a variety of experiences.
A sensory pathway will also be constructed in the hallway that leads to the SIMS lab, which will help users relax and regulate their feelings before they enter the newly remodeled SIMS/MSE lab.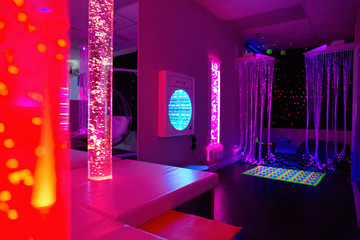 Tim Davis, associate professor in the College's Physical Education Department and director of the SIMS lab, says that the MSE keeps SUNY Cortland students at the forefront of today's teaching practices when addressing the needs of children with severe disabilities.
"We try to address what the public schools' needs are regarding students with disabilities in our training program," Davis said. "We should be ahead of that curve and not the other way around. Communicating with public school teachers is another validation point as to why we're doing what we're doing. There's a tremendous need to help teachers address kids who are impulsive or who struggle with self-regulation and we do that with a sensory-based approach."
SUNY Cortland's MSE will be adjacent to the SIMS lab, which opened in 2014 as part of a donation from the CNY Autism Association and Puzzle Solvers Inc., a local Autism parent support group. The SIMS lab has served hundreds of families with free or low-cost sensory interventions that are designed to compliment occupational and physical therapies provided to children with Sensory Processing Disorder (SPD). It gives local children a safe and fun indoor space to explore physical activities that may not otherwise be available through schools or public playgrounds.
The addition of an MSE to the SIMS lab also gives local teachers and SUNY Cortland students an opportunity to further their understanding of how to meet the sensory needs of users of all abilities. Addressing the needs of children with severe sensory needs requires a multidisciplinary approach. The SIMS/MSE lab will help students in disciplines such as physical education, early childhood education, special education, speech and communication disorders and therapeutic recreation.
SUNY Cortland is one of the only colleges in the nation that includes this type of instruction within its physical education department.
"We're pretty unique," Davis said. "It's all part of a vision to create a continuum of sensory-based opportunity."
A summer graduate course in the adapted physical education concentration is open to students of all majors and allows them to get hands-on experience working with children and families in the SIMS lab.
SUNY Cortland offers a variety of adapted physical education opportunities for children and adults with disabilities, including the Skill Builders/Challenger Sports program, which has been running for 20 years.
The Williams family has partnered with the College on an MSE expansion because the cause is personal. Scott Williams, executive producer of TV's "NCIS," and his wife, Catherine Curry-Williams, are the founders of Shane's Inspiration, which is named after their late son, Shane Alexander Williams. Shane Williams was born with spinal muscular atrophy, a genetic disorder that affects one in 10,000 children and would have prevented him from using traditional recreation methods. They have created dozens of inclusive and accessible playgrounds around the world in Shane's honor.
Shane's Inspiration also provides innovative social inclusion programs and training opportunities for schools and communities that transform these playgrounds into classrooms, helping thousands of educators break down social barriers for children with disabilities.
Expanding the SIMS lab to include an MSE will be a win-win both for SUNY Cortland students and local children who currently lack access to safe and welcoming play spaces.
"That's our goal," Davis said. "We want to make sure there is more opportunity in the community, which gives our students more opportunity to learn best practice."
For more information, contact Davis at 607-753-4969.
---