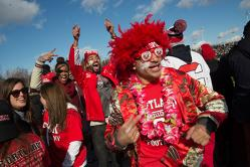 11/04/2016

The SUNY Cortland and Ithaca College football teams won't meet for the 58th annual Cortaca Jug rivalry game until Saturday, Nov. 12, but students can begin celebrating the legendary tradition Monday, Nov. 7, as a week of Cortaca-related activities and events kicks off.
The activities range from psychic readings and escape rooms to our Lose the Blues T-shirt campaign and an otherworldly glow-paint dance party. It's a red and white week of contests and school spirit that culminates with the annual football contest itself — which Sports Illustrated dubbed "The Biggest Little Game in the Nation."
"Very few colleges our size have anything remotely like the Cortaca Jug," SUNY Cortland President Erik Bitterbaum said. "It's a source of institutional pride and a bridge between students and alumni — some of whom graduated more than half a century ago."
Cortaca Week events are planned to give students safe options for celebrating the legendary clash of gridiron rivals. SUNY Cortland and Ithaca College will square off at noon Saturday, Nov. 12, at the SUNY Cortland Stadium Complex.
The game will be televised live on Time-Warner Cable, channel 325, in the Cortland-Ithaca region, and will be available through the campus cable system on channel 20. It will also be streamed live over the Internet through the Cortland Athletics website.
Cortaca Week at a glance:
Monday, Nov. 7: Cap it off
Cortaca hat giveaway alert, noon. Learn where and when the Student Government Association will be giving away free Cortaca baseball hats this day by checking the association's Instagram account @CortlandSGA. To get a hat, students must be following SGA's Instagram account.
Tuesday, Nov. 8: Lose the Blues, witness history
Cortaca hat giveaway alert, noon, on Instagram @CortlandSGA
Lose the Blues, 12:30 to 2:30 p.m., Student Life Center. Exchange any article of blue-colored clothing for a brand-new red t-shirt emblazoned with the winning design of the 2016 Cortaca Jug student t-shirt contest, sponsored by the SUNY Cortland Alumni Association. All donated clothing will be given to charity, and will count in the College's competition against a similar "Shed the Red" campaign run at Ithaca College.
Election Night Watch Party, 8 p.m., Corey Union Function Room. You've (hopefully) cast your vote, now watch the fate of the nation unfold with your fellow Red Dragons while munching free pizza and wings. Remember, the colors of Cortaca are red, white and blue!
Wednesday, Nov. 9: Crunch a car for Cortaca

Cortaca Philanthropy Car Smash, 2 to 6 p.m., outside between the tennis courts and Lusk Field House. For a small donation to the United Services Organizations, a nonprofit group that assists United States military personnel and their families, students can take a sledgehammer to a soon-to-be-scrap vehicle. Sponsored by Theta Chi fraternity.
Wellness Wednesday reputation management presentation, 7 p.m., Corey Union Exhibition Lounge. Learn why career-minded students should think twice before every impulsive Tweet, Snapchat post, Instagram offering or Facebook comment at the Cortaca edition of "Managing Your Reputation in the Social Media Age."
Thursday, Nov. 10: Play Bingo for food and Red Dragon gear

Lose the Blues, 11:30 a.m. to 1:30 p.m., Brockway Hall, Room 203.
Cortaca hat giveaway alert, noon, on Instagram @CortlandSGA

Grocery Bingo – Cortaca Edition, 8:30 p.m., Corey Union Function Room. Students can win groceries and SUNY Cortland or Cortaca apparel by playing Bingo. Sponsored by the Student Activities Board.
Friday, Nov. 11: See the future, escape the present, celebrate tradition
Cortaca hat giveaway alert, noon, on Instagram @CortlandSGA
Psychic readings, 5 to 9 p.m., Student Life Center. Want to know who will win Cortaca? A gathering of working psychics are available to share their extrasensory perspective on student concerns. You can decide whether they really have "the sight."
Escape Rooms, 5 to 9 p.m., Student Life Center. Groups of friends can work against the clock to solve puzzles and piece together clues needed to break out of one of several themed "escape rooms."
Cortaca Mug, 9 p.m. to 2 a.m. at the Interfaith Center, across the street from the Dowd Fine Arts Center. This is the ninth year of Cortland's increasingly well-attended, alcohol-free Cortaca Jug pre-party. Students can win great prizes, eat free food and participate in a wide variety of fun activities. Live music features singer and guitarist John Rush, known as "The Human IPod" because he takes just about all song requests, who starts at midnight.
Saturday, Nov. 12: Cheer on the team, bask in the glow

Free Speech Balls – Cortaca Jug edition. Express yourself by writing a thought or comment on one of three giant inflatable balls rolling on campus from 11 a.m. to 3 p.m. at the steps of Corey Union, and from 11 a.m. to 12:30 p.m. at the Student Life Center and in the Stadium Complex parking lot. Sponsored jointly by the SUNY Cortland and Ithaca College chapters of the Young Americans for Liberty.
Cortaca Jug, noon, SUNY Cortland Stadium Complex. The first 1,000 SUNY Cortland students to enter will receive a Blaze Coupon good for one free hot dog, a bag of chips and a beverage. The Student Life Center and all campus dining facilities will maintain their normal hours, although the game between Cortland and Ithaca will be playing on all video and television screens.
GlowRage, 8 p.m., Moffet Gymnasium. Doors open at 7 p.m. for this electronic dance music party, which features a D.J and washable neon paint that makes the whole room glow. Tickets are $5 in advance and $10 at the door. Sponsored by the Student Activities Board, which posted some GlowRage videos on their Instagram page.
Sunday, Nov. 13: Thank the community

Cortaca Cleanup, noon to 2 p.m., meet downtown outside of Brix restaurant. This popular, annual event shows the community that SUNY Cortland students are responsible, civic-minded people.
---