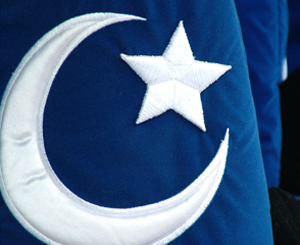 03/27/2012

Emil Homerin, a nationally recognized specialist in Arabic literature and Islam, will discuss the power of words and their impact on Islamic life and culture on Wednesday, April 11, at SUNY Cortland.
Homerin, a professor of religion at the University of Rochester, will lecture on "The Word of Islam: Language, Religion and Culture in the Muslim World" at 4:30 p.m. in Moffett Center, Room 2125.
The event, which is free and open to the public, represents the fifth and final talk in the 2011-12 Rozanne M. Brooks Lecture Series, themed this year on "Culture and the Written Word."
A reception to welcome Homerin will precede the talk at 4 p.m. at the Rozanne M. Brooks Museum in Moffett Center, Room 2126.
Homerin also will focus his talk on the Qur'an, the prophetic traditions of the prophet Muhammad, legal edicts and poetry.
Homerin teaches courses in Islam and classic Arabic literature at the University of Rochester. He has lived and worked in Egypt and Turkey for several years, has written and translated multiple publications including The Wine of Love and Life: Ibn Al-Farid's Al-Khamriyah and Al-Qaysari's Quest for Meaning, From Arab Poet to Muslim Saint, Ibn al-Farid: Sufi Verse and Saintly Life and Passion Before Me, My Fate Behind: Ibn al-Farid and the Poetry of Recollection.
His research was supported by grants from the Mrs. Giles Whiting Foundation, the Fulbright Foundation, the American Research Center in Egypt and the National Endowment for the Humanities.
At the University of Rochester, Homerin has been recognized for his excellence in teaching and has won a number of awards including the American Association of Teachers of Arabic Translation Prize; the Goergen Award for Distinguished Achievement and Artistry in Undergraduate Education; and the Golden Key Honor Society's recognition for contributions to undergraduate education.
The Brooks Lecture Series honors the late Rozanne M. Brooks, a SUNY Distinguished Teaching Professor and SUNY Cortland professor of sociology and anthropology who served on the faculty for 36 years. The 2011-12 Brooks Series is sponsored by a grant from Auxiliary Services Corporation (ASC) and the Cortland College Foundation.
For more information, contact Sharon R. Steadman, the lecture series organizer and Brooks Museum director, at (607) 753-2308.
---