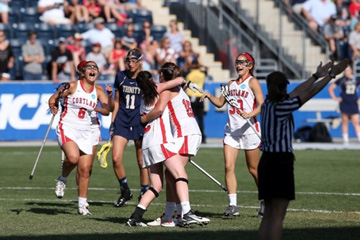 05/24/2015

The SUNY Cortland women's lacrosse team capped a storybook season with the program's first-ever NCAA title, knocking off previously top-ranked Trinity College, 17-6, in the Division III national championship game at PPL Park in Chester, Pa.
The Red Dragons, playing in their first-ever NCAA title game, had lost to the Bantams in national semifinal games in each of the past three seasons. Led by first-year head coach Kelly Lickert-Orr, SUNY Cortland finished the 2015 campaign 22-1 and tied the school record for wins in a season.
The College ran out to an 8-2 halftime lead in the championship and never trailed in the game.
Sophomore Kristen Ohberg and freshman Hannah Elmer each notched four goals and an assist to lead the Red Dragons in the scoring column. Junior Tara Monaghan netted three goals and senior Emma Hayes-Hurley '15, who was named the Final Four's Most Outstanding Player, recorded two goals and two assists. Senior Marilyn Farrell '15 tallied two goals and an assist and junior Nicole Bello also scored twice.
Sophomore goalie Jaclyn Beshlian stopped eight shots in between the pipes. She was joined on the Final Four All-Tournament Team by Elmer, Hayes-Hurley, Monaghan and Ohberg.
The win marked SUNY Cortland's 19th in a row and punctuated an impressive NCAA Tournament run that saw the team win four of five games by at least seven goals. After falling behind 4-0 to Middlebury College in the national semifinals, the Red Dragons came storming back for a 19-12 win.
The 2015 campaign also saw the women's lacrosse team win its 17th straight State University of New York Athletic Conference (SUNYAC) title and push its home winning streak to 67 games. The program previously played in the 1984 United States Women's Lacrosse Association (USWLA) national title game in 1984.
The national championship is the College's first team title since the men's lacrosse squad won an NCAA crown in 2009. The SUNY Cortland Athletics Department now boasts 24 national team titles in its history, including 18 NCAA championships.
---