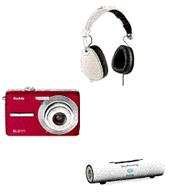 04/24/2012

SUNY Cortland students can become eligible for speaker docks, Campus Store gift cards and other prizes, just for filling out an anonymous online survey about their health-related habits, practices and needs.
Findings from the survey, which takes about 15 minutes to complete, will be used to assess and improve health care programs and services on campus.
"By doing the online survey, students are able to share their health concerns and interests and will have a significant part in determining future programming efforts for the College," said Cathy Smith, health educator in the Health Promotion/Student Development office. "The Health Promotion Office is offering excellent prizes as an incentive for completing the online survey because this survey is so important."
SUNY Cortland students ages 18 years and older are invited to participate in the online 2012 National College Health Assessment. It is sponsored by the Student Development Center, which includes the Health Promotions Office, the Student Health Service, the Counseling Center and the American College Health Association (ACHA).
The survey is online at http://websurveyor.net/wsb.dll/33760/NCHA-IIb-S12-SUNYCORTLAND.htm. A link to the survey was emailed to all undergraduate students on April 16. Students are encouraged to complete it in one sitting.
Completely voluntary and anonymous, some questions are of a personal nature concerning such health behaviors as substance use and sexual activity. No identifying information will be associated with the responses and students can choose to not answer any question. Names and contact information on the printed sheet are never linked in any way to student survey responses.
After completing the survey, students can print a "Thank you for participating" statement that they can write their names on and drop it off in the "red box" in the Health Promotion Office, Van Hoesen Hall, Room B-1. A drawing for prizes, which include headphones, a camera, speaker docks and College Store gift cards, will be held at the end of the project.
This survey, developed by the ACHA, will be administered through May to assess the behaviors, attitudes and perceptions of college students related to a broad range of health issues. These issues include alcohol, tobacco and other drug use, exercise and nutrition, safety and violence, sexual health and mental health. The ACHA/NCHA II survey is the most widely used and accepted among colleges and universities. It has been administered to more than 825,000 students at more than 550 colleges and universities since 2000.
The standard survey will also include an additional seven questions specific to SUNY Cortland and the on-campus Student Health Service.
For more information, contact Smith by email or at (607) 753-2066.
---