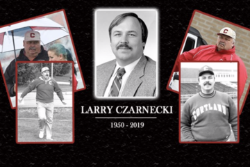 12/03/2019

Long-time Cortland football and track and field coach Larry Czarnecki passed away on Saturday, Nov. 23, at age 69.

Services for Czarnecki have been scheduled for Saturday, Nov. 30, at 1 p.m. at Grace Christian Fellowship in Cortland. There will be a Celebration of Life to follow. Interment will be at St. Francis Cemetery in Nanticoke, Pa., in the spring.

Czarnecki was Cortland's head football coach from 1983-85 after working as the team's defensive line coach in 1978 and defensive coordinator from 1979-82. He also was a Red Dragon assistant coach from 1999-2014, including roles as defensive coordinator from 1999-2000, offensive coordinator from 2001-04 and tight ends coach from 2005-14.

Czarnecki also enjoyed a long association with Cortland's track and field teams. He served as an assistant coach from 1978-85 and was interim head coach in 1981. He returned to the program as interim men's and women's head coach for the 1998-99 season and was the men's head coach for two seasons from 2000-02.

The State University of New York Athletic Conference (SUNYAC) named Czarnecki Men's Track and Field Coach of the Year in both 2001 and 2002 after he guided the Red Dragons to two outdoor league titles, and in 1999 he earned SUNYAC Women's Track and Field Coach of the Year honors after leading the Red Dragons to indoor and outdoor league titles and a 12th-place outdoor national finish. He also served as an assistant coach for the Red Dragons, working with field event performers, for many years until his retirement in 2018.

Czarnecki received a Bachelor of Science in Physical Education from Ithaca College in 1976 and his master's degree in the same field the following year. He returned to his alma mater in 1986 as an assistant football and track and field coach. He worked with the Bombers' football squad until 1996, coaching the offensive line on squads that won NCAA Division III titles in 1988 and 1991.

A standout defensive tackle at Ithaca, Czarnecki earned Kodak and Associated Press First Team All-America honors. He was named the ECAC Division III Football "Player of the Year" as a senior captain in 1975. Czarnecki led the Bombers to Lambert Trophies and appearances in the NCAA Division III championship games in his junior and senior seasons. He also competed on Ithaca's Track and Field club team and played semi-pro football with the Scranton Stars (1976-78) and Binghamton Jets (1979-80).

Larry's Obituary via Wright-Beard Funeral Home.
---