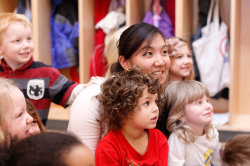 03/21/2017

SUNY Cortland's School of Education is holding two events to help current and future educators negotiate issues of diversity in schools.
A panel of teachers from Cortland area districts will discuss incidents of bias they have experienced in their schools and share strategies for addressing these issues in the classroom on Wednesday, April 5, at SUNY Cortland. Geared to college students in education fields as well as college faculty and local school educators, the community teach-in is free and open to the public.
A similar event about diversity in the classroom aimed at future school principals and superintendents was held today during the annual Educational Leadership Interns Conference at the Port Watson Mini-Conference Center off campus.
That conference, designed for experienced teachers seeking training as school administrators, is supported by the Francis J. Cheney Fund underwritten by Louise M. Conley, the granddaughter of the fund's namesake early Cortland Normal School principal. The endowment benefits candidates for a Certificate of Advanced Study in Educational Administration (C.A.S.) from the College with seminars on a wide variety of current topics in education leadership.
"We need to create learning opportunities for handling what is termed 'hurtful language' related to issues of bias that often come up in classroom discussions," says Andrea Lachance, dean of the School of Education. "How do you productively engage with these issues and make the environment a safe space for all kinds of face-to-face discussion in a school?"
The April 5 community teach-in, titled "No, It's Not Okay: Addressing Hurtful Language and Bias in School Settings," will run from 7 to 9 p.m. in the College's Sperry Center, Room 105.
The panel presentation will be followed by an audience question-and-answer period. During the second hour, a series of breakout conversations will draw on the collective expertise of all participants.
The panelists all are educators experienced in dealing with these challenges. The event's purpose is to move the topic of diversity from theoretical discussion to classroom practice, something that students in the education disciplines have emphatically requested, Lachance said.
| | |
| --- | --- |
| | |
| | SUNY Cortland students, shown above and above left, are learning how to work one-on-one with children in the classroom as they complete their degrees. |
"There's a disconnect between the theory and practice," Lachance said. "Everyone knows about stereotyping and power differentials. And in a lot of our coursework, we talk about the idea of inclusion, how we, as teachers, need to be sure everyone in our classrooms feels respected."
Well, there's theory and then there's practice.
"We feel we need to do more to help people think through how these issues might be addressed in practice," Lachance said. "How do we, as members of school communities, engage with these issues in a productive and educative way so that we're all learning and appreciating differences? Because despite the current political rhetoric and the fact that we all have individual political beliefs, schools should be safe spaces for all children."
"I think partly it's the result of the political climate that people are thinking these issues are very near the surface and there's a lot more sensitivity around it," Lachance said. "So the educational leadership faculty thought it was very timely. We've been fortunate to have some local superintendents who have expertise in addressing these issues willing to share their experiences with our interns."
For more information, contact the School of Education at 607-753-5431.
---