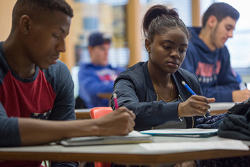 04/07/2017

On his journey from the Onondaga Nation to higher education and back again, Hugh Burnam feels he has gone through significant personal development.
"I have come to understand the need to transform and grow as a person — and as a community member," said Burnam, who also uses his Onondaga name, 'Hode'hnyahä:dye'.
| | |
| --- | --- |
| | |
| | Hugh Burnam |
Burnam, a member of Mohawk Nation, Wolf Clan and a Ph. D. candidate at Syracuse University's Cultural Foundations of Education program, will share his ideas on Saturday, April 8, at SUNY Cortland.
He will deliver the keynote speech during the eighth annual Conference on Diversity, Equity, Inclusion and Social Justice. His talk, which is supported by a Campus Artist and Lecture Series (CALS) grant, begins at 12:30 p.m. in the Corey Union Function. The presentation is free and open to the public.
This year's student run conference theme focuses on inspiration, compassion, shared humanity and ways in which SUNY Cortland students can gain the experience they need to be inspired to make a difference in our world. The conference is geared to have participants recognize their shared humanity, and foster connections across cultural divides to promote a more inclusive campus community.
Burnam works closely with the Onondaga Nation, specifically with Native youth. He focuses on decolonization efforts including language revitalization, planting, traditional Haudenosaunee games and sports, and environmental advocacy.
He describes his own complicated journey toward a greater self-knowledge.
"I found myself dealing explicitly with my own internalized colonization, racial micro-aggressions that I've experienced, discovering fatherhood, and examining masculinities as related to my native identity," he said.
"I found a great deal of strength and perseverance in working with my own Haudenosaunee communities, that helped me to push through my Ph.D. program," he said."I will discuss whiteness and how to have difficult cross-racial conversations to move towards peace."
The conference runs from 8 a.m. to 4 p.m. in Corey Union and features presentations on diversity during four educational sessions.
"It's important that the student body realizes we all come from different paths of life, and it is those differences that help us grow and learn from one another," said Mike Guity, a mathematics major from Brooklyn, N.Y., who as diversity committee chair has helped plan the day of events.
"This conference is important because it allows people from the campus and other campuses to come and have those conversations about the things we may not understand," said Bailey Ward, a senior communication studies major from Mayfield, N.Y., who is among those scheduled to give opening remarks.
"It also allows students to have a voice and to share their knowledge which is such a great thing because we can all learn something from each other," she said.
This student-led conference allows students and faculty to problem-solve, conceptualize, research and present across a wide range of disciplines.
"It is important to not just scratch the surface when it comes to diversity, but really dig deep and explore all aspects," said Guity.
Registration and check-in will take place from 8-8:45 a.m. in the Corey Union lobby.
A welcome with Erik J. Bitterbaum, SUNY Cortland president, Greg Sharer, vice president for student affairs, Lima Safford, interim assistant director for multicultural life and diversity, and Ward will take place from 8:45- 9:35 a.m. in the Corey Union Function Room.
The four educational sessions will be held between 9:45-11:35 a.m. and 1:25-3:15 p.m. Lunch and cultural performances will take place in the Corey Union Function Room from 11:45-12:30 p.m. followed by the keynote speech from 12:30-1:15 p.m.
Students and faculty may register for the Diversity Conference through the Multicultural Life and Diversity webpage individually or by group. The individual fee is $30 for students, $35 for faculty, staff and alumni. The group fee for five or more participants is $27 for students and $32 for faculty, staff and alumni.
For more information, contact the Multicultural Life and Diversity Office.
Prepared by Communications Office writing intern Jessica Haverlin
---