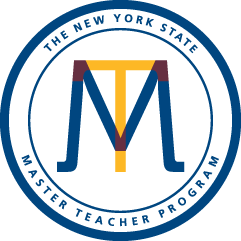 10/30/2013

Nearly three dozen math and science teachers will hone their craft through SUNY Cortland's Master Teacher program, making the College the largest regional hub for the new teacher development program in New York state.
Gov. Andrew Cuomo announced in October four regional sites for the program. Thirty-five teachers, or one-third of the 105 math and science teachers selected statewide statewide, will be affiliated with SUNY Cortland, according to the governor's announcement.
"Following a very rigorous interview and application process, we now have some pretty outstanding teachers we will be working with," said Dominick Fantacone, master teacher program coordinator for SUNY Cortland. "The goal is to provide them with professional development opportunities in their content areas. It's information, skills, and materials they will then take back to the classroom to share with their students."
SUNY Cortland's master teachers come from 15 different school districts throughout Central New York. Ten of them are graduates of SUNY Cortland, which runs the largest accredited teacher education program in the Northeast.
A second wave of applications is expected to double the number of participants in Cortland's Master Teacher program by early next year. Applications will be available through suny.edu in November.
"We are thrilled to have such a distinguished group of science and math teachers from our region to work with in the coming years," said Andrea LaChance, dean of SUNY Cortland's School of Education. "We think they will contribute greatly to the preparation of our teaching candidates in math and science."
The first group of Master Teachers, selected for their classroom effectiveness in science or math, will meet routinely as a group for mini-courses and workshops and pursue individualized development plans in their content areas. They will then share what they've learned with other working educators and SUNY Cortland preservice teachers.
The program, announced by Gov. Cuomo this spring, requires a four-year commitment to mentoring other secondary school teachers and helping both prospective educators and new teachers. Teachers will also engage in peer mentoring and intensive content-oriented professional development opportunities throughout the academic year. It comes with a $60,000 stipend ($15,000 annually for four years). The idea is to give outstanding teachers in math and science an incentive to continue teaching in New York while sharing their methods, experience and insight with fellow teachers.
The other existing master teacher hubs are SUNY New Paltz (19 participants), SUNY Plattsburgh (21 participants) and SUNY Buffalo (29 participants). Additional hubs will be established at SUNY Geneseo, SUNY Oneonta, Binghamton University, Stony Brook University and the University at Albany.
The first group of SUNY Cortland Master Teachers:
Janet Scheffler M.A.T. '01, Auburn Enlarged City School District*
Lynda Barry, Baldwinsville School District
Kurt Schmidt, Cincinnatus Central School District
Abbey Albright '02, Cortland Enlarged City School District*
Karen Kirchbaum, Cortland Enlarged City School District
James Ulrich, Cortland Enlarged City School District
Pamela Herrington M.A.T. '00, East Syracuse-Minoa Central School District*
Timothy Keough, East Syracuse-Minoa Central School District
Sally Mitchell, East Syracuse-Minoa Central School District
Peter Wilder, Fabius-Pompey Central School District
Kevin Douglass '99, Homer Central School District*
Thomas George, M.A.T. '02Homer Central School District*
Dawn Janicki, Jamesville-DeWitt School District
Jay Lang, Jamesville-DeWitt School District
Elizabeth Wood, Jamesville-DeWitt School District
David Amidon, LaFayette School District
Nancy Terry, LaFayette School District
Andrew Calderwood, Liverpool Central School District
Wanda Padula, Liverpool Central School District
Jeffry Peneston, Liverpool Central School District
Sara Pieklik, Liverpool Central School District
Rita Putnam, Liverpool Central School District
Jennifer Terpening, Liverpool Central School District
Bridgit Johnson, M.S.Ed. '13, Moravia Central School District*
Tisha Riley M.S.Ed. '10, Moravia Central School District*
Michelle VanEtten, Moravia Central School District
Greg Flick, North Syracuse Central School District
Amy Furletti M.S.Ed '01, North Syracuse Central School District*
Matthew Harbinger, North Syracuse Central School District
Bradley Ranieri, North Syracuse Central School District
Amy Houseknecht M.S.Ed '11, Southern Cayuga Central School District*
Carl Scheffler M.A.T. '99, Southern Cayuga Central School District*
Kathryn Annan, West Genesee School District
Samuel Gervaise, West Genesee School District
Megan Wolfe, Westhill School District

* SUNY Cortland graduate
---