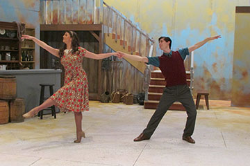 02/21/2017

"Crazy For You," the Tony Award winning musical comedy inspired by George Gershwin's 1930 musical "Girl Crazy," will be performed by SUNY Cortland musical theatre students for a second weekend beginning Friday, Feb. 24.
The production, which opened on Feb. 17, will run at 8 p.m. on Friday, Feb. 24 and Saturday, Feb. 25 and a matinee performance at 2 p.m. Feb. 26.
Admission is $9 for students; $16 for faculty, staff and senior citizens; and $19 for the general public. For the best selection of seats, tickets may be purchased online at cortland.edu/boxoffice. Tickets also may be purchased in person in the Dowd Fine Arts Center lobby one hour before the curtain. For more information on ticket sales, call 607-753-2831.
Read the complete article here.
For more information, contact Whetstone at 607-753-4544.
---