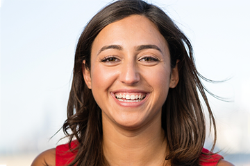 08/27/2019

Elena Evangelou '19 is competing in the Rose of Tralee International Festival in Kerry, Ireland. Evangelou, a native of Queens, N.Y. who recently graduated with a bachelor's degree in business economics, is representing New York City as the festival's New York Rose.
Her mother was born in Pallaskenry, Ireland and her father is from Cyprus. The Rose of Tralee Festival is celebrating its 60th year in 2019 and it recognizes women from around the world who were born in Ireland or who have Irish ancestry.
In other news:
Jena Nicols Curtis, professor in SUNY Cortland's Health Department, was featured on Bellevision.com during her recent trip with 11 students to St. Aloysius College in Mangalore, India. The group held discussions with Indian counterparts on issues of women's empowerment.
Robert Spitzer, distinguished service professor and chair of the Political Science Department, wrote a piece for CNN.com about President Donald Trump's changing positions on gun control. He was also quoted in a story in the Cortland Standard about the increasing number of elected women in various Cortland County offices. Spitzer also offered commentary on WCNY about New York state's new red flag law, which aims to keep guns out of the hands of those who are deemed a threat to themselves or others.
Tim Davis, associate professor in the Physical Education Department, was quoted in a story from Chalkbeat.org about how schools are working to improve offerings for students with special needs.
Jenn McNamara, associate professor in the Art and Art History Department, was quoted in a Cortland Standard story about a weaving school that has opened in Truxton, N.Y.
Jacksonville Jaguars head coach Doug Marrone shared his experience as SUNY Cortland's tight ends coach in 1992 as part of an ESPN story on where NFL head coaches got their start in the sport.
The Cortland Voice republished a SUNY Cortland press release on the hiring of Sulekha Modi Zaug '00, M '02 as the university's gymnastics coach.
Scott Gordon '88 was named president of Stephen F. Austin State University in Nacogdoches, Texas and was profiled by KSLA-TV News. Gordon, a native of Malone, N.Y., was a first-generation college student when he arrived at SUNY Cortland.
The Cortland Standard ran a piece on the unveiling of the musical legacy sculpture during Alumni Reunion 2019. Scott Oldfield '06, who created the piece, was featured, as were a number of members of the SUNY Cortland Alumni Association's Musical Legacy Commemoration (1960-90) Project.
Ann Dunwoody '75 was honored by the U.S. Department of Veterans Affairs on Aug. 26, Women's Equality Day. Dunwoody was the first woman to become a four-star general in the U.S. Army.
Liz Beville '14, M '16 spoke with CNYCentral.com after being named the head coach of the women's lacrosse team at Le Moyne College in Syracuse, N.Y. Beville had served as interim head coach at Colgate University this past spring.
Jack Flood '18 was featured in Newsday as he prepares for the 2020 Summer Olympic trials. Flood was a two-time NCAA Division III national champion in the heptathlon and decathlon at SUNY Cortland.
---