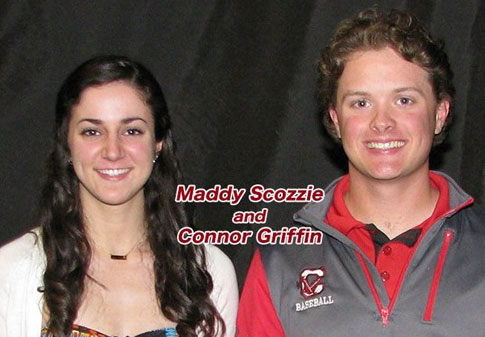 05/17/2016

SUNY Cortland senior women's gymnast Maddy Scozzie and senior baseball player Connor Griffin have been named the State University of New York (SUNY) Chancellor's Scholar-Athlete Award winners in their respective sports for the 2015-16 school year.
They are among the 78 recipients of the awards within the SUNY system at the Division I, Division III, and junior college levels announced by SUNY Chancellor Nancy L. Zimpher. The Chancellor's Scholar-Athlete Award recognizes a combination of academic excellence and outstanding athletic achievement.

"Recipients of this award are honored for high achievement in and out of the classroom, accomplishment marked by hard work, dedication, and discipline," said Zimpher. "Congratulations to each of this year's SUNY scholar athletes, and thank you to the many faculty, coaches, and staff across SUNY who mentor and support them."

To be eligible for the award, a student-athlete must be a first or second-team all-conference athlete with a minimum of a 3.3 grade point average for at least three semesters. A student-athlete is only permitted to win the award once. For spring sports winners, all-conference accolades from the 2015 season were used since this spring's honors were not released at the time those awards were determined.

Scozzie earned four All-America awards during her gymnastics career, highlighted by the uneven bars national title as a junior at the 2015 National Collegiate Gymnastics Association (NCGA) Championships. She was also an All-American on bars as a senior, as well as in the all-around in both 2014 and 2015.

Griffin is the starting second baseman on Cortland's baseball squad that is currently 37-5 and ranked first nationally in Division III. He's batting .308 with 19 RBI in 37 contests. Last season Griffin earned first team All-State University of New York Athletic Conference (SUNYAC) honors after hitting .409 in 29 contests.

---