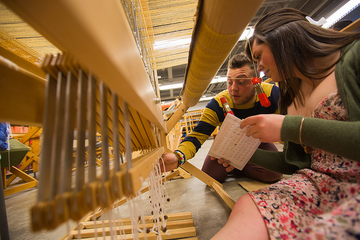 05/15/2018

High school students with a passion for art and creativity will get an opportunity to explore their interests at SUNY Cortland's Pre-College Art Program in July.
The College will host a hands-on, immersive studio art program for students entering grades nine through 12 from July 16 to 20 at Dowd Fine Arts Center. The program runs daily from 9 a.m. to 4 p.m. Interested students may register online.
"Constructing Character" is the program's theme and students will investigate the creation of characters through contemporary art concepts and a variety of media. Participants will develop a short narrative or story that will use the art pieces for a recorded performance.
They will also be introduced to visual layering through dyeing and printing techniques and drawing, digitizing and editing animated shorts centered on the "Constructing Character" theme.
An art show will be held on the final day of the program for family and friends.
Three SUNY Cortland Art and Art History Department faculty members will serve as instructors. Martine Barnaby, associate professor, has experience teaching courses in design, animation, multimedia, digital illustration and graphic design. Jenn McNamara, associate professor, teaches courses in weaving and surface design, embroidery, piecework, dyeing and photo-silkscreen. Bryan Thomas, lecturer and interim director of Dowd Gallery, is a mixed media sculptor and teaches courses in drawing and design.
The cost per student is $175 if registered by Thursday, May 31. The registration fee rises to $225 for those who register between Friday, June 1, and the deadline of Friday, June 29. Space is limited. Students should bring their own lunch and snacks.
Additional information will be sent to registrants approximately two weeks before the start of the program.
Contact the Extended Learning Office at 607-753-5643 for more information.
---