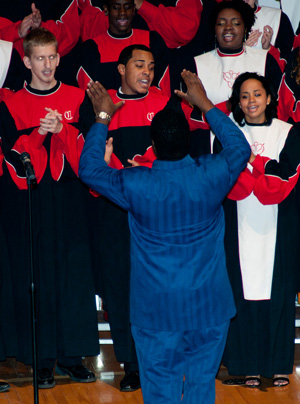 10/22/2013

Gospel music groups from several area universities will bring their talents to SUNY Cortland for the College's 28th annual African American Gospel Musical Festival on Sunday, Nov. 3.
The event takes place at 4 p.m. in the Corey Union Function Room and costs $5 for general admission and $3 for students, with proceeds supporting the SUNY Cortland Gospel Choir scholarship and the group's programming funds.
Children 12 years old and younger will be admitted for free. Free tickets also are available for people who have a financial need.
Performances are expected to wrap up by 5:30 p.m., and a reception will follow.
In addition to SUNY Cortland's Gospel Choir, groups from Binghamton University, Cornell University and Syracuse University will perform. Each choir has been asked to perform two songs: one gospel and one a cappella. A mass choir selection, featuring all of the groups together, will serve as the finale.
SUNY Cortland's performance will include "Let's Dance," by Lonnie Hunter; "Every Praise," by Hezekiah Walker; and "Moving Forward," by Israel Houghton, featuring Deston Hudson as a soloist. The mass choir selection is "Break Every Chain," by Tasha Cobbs, led by Karlene Anderson.
The College's Gospel Choir is directed by Robert Brown, a lecturer in the Africana Studies Department and music teacher at Blodgett Elementary School in Syracuse, N.Y. He also serves as music director of the New Life Community Church in Syracuse. SUNY Cortland Gospel Choir musicians include Andy Rudy on keyboard, Benjamin Terry on percussion and Reginald Seigler on bass guitar.
Cornell University's Chosen Generation Gospel Choir will perform under the direction of Melanie Netter. Binghamton University's Gospel Choir is directed by Jessica Davis and Syracuse University's Black Celestial Choral Ensemble is led by Byron F. Canada.
The SUNY Cortland Gospel Choir is part of the College's Africana Studies Department. Its support comes from the Center for Gender and Intercultural Studies; the Alumni Affairs Office; the Cortland College Foundation; the Division of Student Affairs; the President's, Provost and Vice President for Academic Affairs offices; and the student activity fee.
For more information, contact Samuel Kelley at 607-753-4104 or sam.kelley@cortland.edu.
---