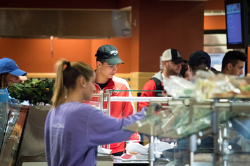 09/14/2021

The following message was sent to students, faculty and staff on Monday, Sept. 13
Dear Campus Community,
Cortland Auxiliary is adjusting to the national worker shortage by increasing operating hours and offerings at Neubig Dining while shifting service at The Bistro to pick-up meals only. After much deliberation, we determined that this change, although not ideal, allows us to re-distribute Auxiliary staff with the smallest disruption to students.
Starting on Monday, Sept. 20, Neubig Dining will be open seven days a week: from 7 a.m. to 9 p.m. Monday through Friday and from 8 a.m. to 9 p.m. on weekends. Neubig currently operates six days a week. The change should also allow popular menu items at Neubig's Mongolian Grill and Frostbites to be available for students more often.
The Bistro will offer a few varieties of pick-up meals, including some hot and allergy-free options, Monday through Friday from 11 a.m. to 9 p.m. The Bistro currently closes at 7 p.m.
These meals will be included as part of the unlimited meal plans and will also be available for individual purchase. There will also be limited seating at The Bistro. There are no changes to the operations or the hours at our retail café, Fuel, located next to The Bistro in the Student Life Center.
Cortland Auxiliary is actively recruiting both full-time and student workers to fill roughly 285 vacant positions. We encourage any interested students to apply. Schedules are very flexible and students can work from 3 to 25 hours a week. Please contact us at asc.staff@cortland.edu for more information on regular and student positions.
We feel very fortunate to have amazing and dedicated employees at Cortland Auxiliary. They have been working hard to support our campus community throughout the pandemic and we are grateful to have them on our team.
We apologize for any inconvenience the shift in focus to Neubig Dining may cause. Unfortunately, the same factors that have led many restaurants to reduce hours, limit offerings or even close, make this necessary. We look forward to serving the campus community and thank you for your understanding.
Renee Sydorowych
Executive Director
SUNY Cortland Auxiliary
---