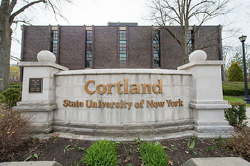 07/21/2020

The COVID-19 pandemic has sorely tested all institutions of higher education, forcing us to abandon old ways of doing things and reconsider every aspect of our operations. That will continue as we move forward with plans to return to on-campus instruction for the Fall 2020 semester. The safety and well-being of our community — students, faculty, staff, guests and neighbors — continue to be SUNY Cortland's top priority. The framework for our restart is based on guidance from the Centers for Disease Control, New York State Department of Health, SUNY system and the Office of Governor Andrew Cuomo.
President Erik J. Bitterbaum issued updates on SUNY Cortland's reopening on July 17 and July 10.
An in-depth restart plan for students living in residence halls has been posted to the Residence Life and Housing website.
Additional information and updates are posted on the Restart SUNY Cortland page. Please continue to check email and refer to the Restart page for the latest news on the university's plans to reopen.
---