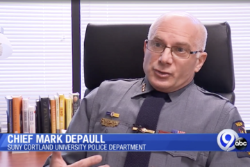 02/24/2020

Two local television stations recently visited the SUNY Cortland campus to follow up on the University Police Department reporting its fewest on-campus crimes in 43 years.
Spectrum News spoke with a number of students, including Valerie Dellorusso.
"I always feel really safe," she said. "I've never felt like I was in danger at any time, night or day."
WSYR-TV in Syracuse spoke with a number of university officials and students, including UPD Chief Mark DePaull.
"I think at SUNY Cortland and SUNY-wide across the state, we've always bought into the community policing aspect and the whole community concept where we're engaging the community and we're breaking down any barriers we may have with the community," he said.
In other news:
Robert Spitzer, SUNY Distinguished Service Professor and chair of the Political Science Department, spoke with the Cortland Standard about the town of Solon, N.Y. pondering a decision to refuse to abide by future state gun laws. He also spoke to the Associated Press about what role the National Rifle Association may play in the 2020 election cycle. Spitzer spoke to Newsday about a number of gun control legislation plans New York state may consider this year. The Washington Examiner asked Spitzer about how President Trump's strategy of running as a Second Amendment champion may play in swing states.
Nance Wilson, professor and chair of the Literacy Department, spoke with the Cortland Standard about a trend in education called "growth mindset." The concept is that students who may not be naturally gifted learners can catch up to their peers through hard work and implementing dedicated academic strategies.
Chris Widdall, associate professor in the Childhood/Early Childhood Education Department, was quoted in a press release from Watermark about a new partnership that will help design new student assessment solutions. SUNY Cortland was one of a number of colleges that will join a pilot program for embedded signature assessments with Stanford Assessment, Learning and Equity (SCALE).
Jena Nicols Curtis, professor in the Health Department, spoke to the Cortland Standard about a charity, Caring Hearts for Central Haiti, that was founded by local resident Joann Tanner. Curtis and her students have visited Haiti a number of times for health-related projects.
University Police Department officers Dustin Morris and Matthew Howard were among those who participated in an active shooter training exercise held on Feb. 21 at Homer Elementary School. The event was covered by the Cortland Standard.
John Suarez, director of the Institute for Civic Engagement, spoke to the Cortland Standard about the upcoming U.S. census and how local college students will be tallied.
The Cortland Standard covered a lecture on campus by Lisa Hamp, who is a survivor of the 2007 mass shooting at Virginia Tech.
The Cortland Standard spoke to students and university officials about SUNY Cortland's stable enrollment numbers, as compared to other SUNY campuses.
Rebecca Jarrell Lyons M '96 was named Professor of the Year by the University of Redlands' Mortar Board Honor Society. She teaches in the university's Chemistry Department. The award is presented to a faculty member with outstanding teaching abilities who also contributes to the university community.
Bill Tierney '73 was featured in a U.S. Lacrosse Magazine story about how "detours lead to better destinations." Tierney, who originally came to Cortland to play baseball and dreamed of coaching high school football on Long Island, has become one of the nation's top college lacrosse coaches.
The Buffalo News featured Mitch Reynolds '10, director of team operations for the Kansas City Chiefs, who recently helped lead the team to a Super Bowl title.
Jack Flood '18 spoke with Patch.com about the upcoming trials for the Summer 2020 Olympics. Flood, who won NCAA Division III individual titles in the heptathlon and decathlon, is aiming to qualify for the U.S. national team in the decathlon.
---