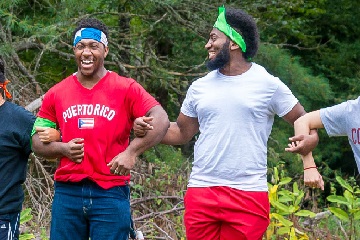 06/30/2020

A national reckoning over centuries of systemic racism has gained momentum in the wake of recent, high-profile violence and a growing awareness of widespread subtle discrimination against people of color. Members of the SUNY Cortland community are looking for answers.
Many want to play an active role in fighting racism but don't know what they can do to make a difference. Others crave a deeper understanding of the issues or don't feel comfortable talking about them at all. Still others who have been directly affected by racism are frustrated and tired over having to wage a daily battle.
As an educational institution committed to opposing racism, SUNY Cortland has created an Anti-Racism Resource website filled with information that could help educate and support our campus community. The site includes links to websites, videos, podcasts, books, films, advice, organizations, thought leaders and more.
The resource page was one of several proposals put forth by the President's Council on Inclusive Excellence, created to promote diversity and inclusiveness in all aspects of campus life.
"As an institution that prides itself on striving for inclusive excellence, we cannot remain silent or passive towards the call to action from those across our nation and within our own SUNY Cortland community," said AnnaMaria Cirrincione, interim chief diversity officer and director of the Multicultural Life and Diversity Office. "It is not enough to simply not be racist. We must be anti-racist.
"We acknowledge we will not solve this deeply embedded issue overnight, which is why we have to make the long-term commitment to educating our community and changing structures or protocols that create barriers to success for our students, faculty and staff of color. We hope that the recommendations of the President's Council on Inclusive Excellence will continue to push us toward racial equity on our campus."
Other council recommendations currently being implemented include:
Establishment of an Anti-Racism Task Force, a temporary subset of the council that would focus on specific actions.
Creation of more opportunities for anti-racist training and professional development for all employees.
Establishment of anti-racism training requirements and education opportunities for students.
In addition, all SUNY Cortland departments and offices are currently drawing up anti-racism action plans that will be embedded into the day-to-day flow of each operation.
Although the moment calls for SUNY Cortland to focus on racism, the university will continue to address and improve the experience of all groups who feel marginalized on our campus and in society.
"I have made it clear that racism — like all other forms of discrimination — has no place at SUNY Cortland," President Erik J. Bitterbaum said. "Eradicating something that's so entrenched in our society will require daily work from all of us: administrators, faculty, staff and students. It may require some uncomfortable conversations and a little soul searching, but our community will be the stronger for it."
---