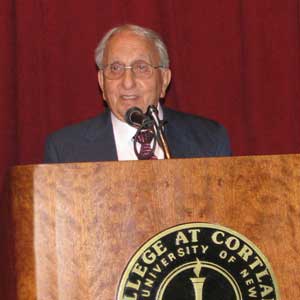 10/09/2012

James Yaman '40 has seen almost a century of college and community history in Cortland, and played a role in much of it.
Last week, the 93-year-old real estate executive took on a new role as recipient of SUNY Cortland's 2012 College-Community Appreciation Award. Yaman was honored Oct. 5 during a dinner event in the Corey Union Function Room.
Yaman has been a driving force in the Cortland area's business community. He is a generous benefactor for the region's civic and charitable causes and a tireless supporter of SUNY Cortland.
A Homer native and graduate of Homer Academy, Yaman is the son of Lebanese immigrants who settled in the area near the start of the 20th century. He was a member of the last class to graduate from Cortland Normal School before the New York State Board of Regents recognized it as a comprehensive college in 1941.
Yaman taught 7th and 8th grade students in a one-room schoolhouse near Groton for several years before enlisting in the Army during World War II. During the conflict, he rose to the rank of captain.
After the war, Yaman returned to his hometown, but did not return to teaching. An entrepreneurial streak led him to try his hand at real estate, and he excelled, eventually founding Yaman Real Estate, Cortland County's dominant home and commercial real estate broker.
Armed with imagination and determination, Yaman helped develop housing at Morningside Drive, Crestwood Court and Bowling Green. He also was involved with the sale of several properties to his alma mater that aided the expansion of SUNY Cortland.
Yaman played a pioneering role locally in helping businesses find prime locations. His involvement with companies such as Suburban Agway Energy Services, Gutchess Lumber, Pall Trinity Micro and Wal-Mart helped changed the commercial landscape of Cortland County.
As his success grew, Yaman did not forget the community that nurtured him as a child, or the College, which he said gave him the only opportunity for higher education available to the son of a poor family.
In 1965, he donated 16 acres of land off Clinton Avenue to the city to use as a park. In 1968, Yaman Park opened after being named to honor the businessman's parents. He continues to financially support improvements to the public park, which includes a swimming beach, skateboard park, playground and picnic area.
Yaman's business accomplishments and widespread philanthropy earned him a Lifetime Achievement award from the Cortland Area Chamber of Commerce in 2003.
Observing from the perspective of nearly 100 years, Yaman is quick to note the importance of the College to the health and vibrancy of the Cortland Community. He has known every College president from Harry DeWitt DeGroat, who retired in 1943, to current SUNY Cortland President Erik J. Bitterbaum, often giving advice and making suggestions on ways the College and community can work together on issues.
Yaman has served on alumni committees and task forces, including the body that recommended a reconstruction and reorganization of the College's alumni office in 1967. Those far-reaching recommendations included the creation of regional alumni chapters and the hiring of the College's first full-time director of alumni affairs, and the creation of an annual fund. The plan laid the foundation for the current Alumni Affairs Office.
He also was a member of SUNY Cortland's very first Alumni Fund Campaign Committee, which oversaw the College's new appeal to support excellence and achievement.
"The College changed my life," said Yaman, who still works an eight-hour day in the real estate business he created. "And it probably has changed the lives of thousands of other people in Cortland."
The College-Community Appreciation Award is sponsored by the College Council. It was created in 1985 as a means of thanking persons who have assisted the State University of New York College at Cortland in a significant manner.
---