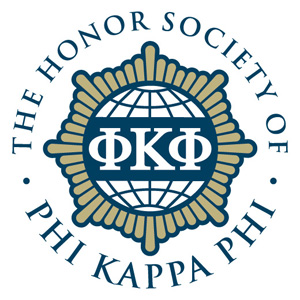 04/10/2012

Four high-achieving members of SUNY Cortland's chapter of Phi Kappa Phi, the nation's oldest, largest and most selective honor society for all academic disciplines, put academic excellence on full display and again raised the bar for future scholars in 2012.
The students, recognized as "Scholars of the Year" by Phi Kappa Phi's Cortland chapter, included Bryan Mulcahey, a senior business economics major from Morrisville, N.Y.; Kellie Murphy, a junior adolescence education: social studies major from Farmingdale, N.Y.; Mark Nader, a senior sport management major from Oneonta, N.Y.; and Meghan Rae Olsowski, a senior sociology major from LeRoy, N.Y.
The honor was based on their academic accomplishments as well as their leadership and volunteer involvement at the College.
Founded in 1897 at the University of Maine, Phi Kappa Phi annually initiates about 30,000 new members from nearly 300 campuses in the U.S., Puerto Rico and the Philippines.
Here's a closer look at each of the 2012 recipients:
Bryan Mulcahey
Bryan Mulcahey
The president of SUNY Cortland's Zeta Delta chapter of Pi Sigma Alpha, a political science honor society, time management has proven crucial to Mulcahey.
"Procrastination throughout my college career was not an option and staying on top of my academic duties was a key to my success both in and out of the classroom," he wrote in his award application.
A former member of the College's varsity football team, he was named to the SUNYAC All-Academic team as a freshman. He is a current member of the Economics Club and the Entrepreneurial Club and has participated in the Political Science Association in the past.
Twice named to the President's List and a Dean's List member every semester during his College career, Mulcahey will move on to law school at Marquette University in the fall.
"I have not taken the easy road or been one to miss out on any opportunities presented to me while at Cortland," he said.
Kellie Murphy
Kellie Murphy
A future educator, Murphy has set high career goals for herself.
"I would hope to be a principal in a district where I can improve the relationship between the faculty and students in hopes of producing an exciting learning environment for all," she wrote in her award application.
There's not much reason to doubt her.
A member of three honor societies, including the Phi Kappa Phi national honor society, Phi Alpha Theta history honor society and the Phi Eta Sigma freshman honor society, Murphy has been recognized on the "Who's Who Among Students in American Universities and Colleges" list.
A member of both the President's and Dean's lists, she also participates in the History Club and Spanish Club. Outside of the classroom, she volunteers as a homework help mentor and a campus tour guide.
"It is my determination for happiness and success that allows me to balance and integrate all aspects of my life," she said.
Mark Nader
Nader already has his career in motion through a current internship.
"I have begun to pursue my goal as I am currently interning with the Detroit Tigers, in the player development department, for my senior requirement," wrote Nader, whose family owned a minor league baseball franchise in Oneonta, N.Y., for more than half a century.
Nader was a sports editor and writer for The Dragon Chronicle, SUNY Cortland's student newspaper, covering various sports for three years. He also has been an active member of the SUNY Cortland Sport Management Club since his freshman year and his name has regularly appeared on the College's Dean's List.
Nader also was named the 2009-10 Sport Management Department Most Outstanding Sophomore of the Year.
As a sophomore, he was awarded a prestigious internship at the National Baseball Hall of Fame and Museum in Cooperstown, N.Y.
"My passion for sports has not only shaped my time at SUNY Cortland, but it is also shaping my future and my goal of working for a Major League Baseball franchise," Nader said. "I am currently pursuing my goal and believe this is the first step to making my dreams become a reality."
Meghan Rae Olsowski
Meghan Olsowski
Olsowski dabbles in a little bit of everything. And everything she does, she does well.
She's the co-president of the College's Environmental Club and an active member in its Criminology Club.
In the past, she worked at an internship with the Cortland County Youth Bureau, volunteered at the Cortland SPCA and participated in Relay for Life, among other activities.
A member of SUNY Cortland's Honors Program and a regular member of the College's Dean's and President's lists, Olsowski says the sociological research she conducts outside of class is one of her most fulfilling achievements.
Last summer, she also studied parapsychology in Scotland.
"Not only did it open my eyes to a new culture and perspective on life in general, but also it changed the way I look at the world in so many wonderful ways," Olsowski said.
---