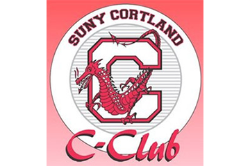 09/23/2019

Seven new members will be inducted into the SUNY Cortland C-Club Hall of Fame during its annual ceremony on Saturday, Sept. 28.
The 2019 honorees are:
Stanley Kowalski '69, M '72 (posthumous), men's lacrosse, football
Jack McGetrick '72, M '74 (posthumous), men's lacrosse, men's soccer
Charlyn (Charlie) Robert '78, field hockey, women's lacrosse
Terry Febrey '82, women's soccer
Frank Ciliberto '83, men's soccer
Tony Zawadzki '86, football
Stefan Mascoll '99, men's track and field
In addition to Saturday night's official ceremony, the inductees will be introduced at halftime of the Cortland-Buffalo St. football game earlier that afternoon.
Established in 1969, the C-Club Hall of Fame recognizes Cortland alumni who competed as athletes at the College and who have since distinguished themselves in their professions and within their communities. Honorary members are recognized for their long and significant contributions to SUNY Cortland athletics. New C-Club members have been added annually and this year's ceremony will bring the Hall of Fame roster to 270 alumni and 30 honorary members.
Nominations for next year's C-Club Hall of Fame voting will be accepted until January 15, 2020. The nomination form is available online. A person must be nominated in order to be considered for induction into the Hall of Fame.
A detailed look at this year's inductees is available at CortlandRedDragons.com.
Stanley Kowalski '69 M '72
(posthumous)
Stanley Kowalski was a three-time All-America midfielder for Cortland's men's lacrosse teams as well as a standout football defensive back. The National Lacrosse Hall of Fame (1997) and Long Island Lacrosse Hall of Fame (1989) inductee was a highly successful coach and teacher at Half Hollow Hills High School and in collegiate lacrosse for almost four decades.
Jack McGetrick '72 M '74
(posthumous)
Jack McGetrick was an All-America lacrosse defender and a regional All-America soccer goalie for the Red Dragons who enjoyed a successful run as a men's lacrosse head coach at the University of Hartford and Bellarmine University.

Charlyn (Charlie) Robert '78
Webster, Mass.
Charlyn (Charlie) Robert played four seasons of both field hockey and lacrosse at Cortland, coached field hockey at Union College for 13 seasons and was one of the nation's top athletic administrators as the director of athletics at Nichols College (Mass.) for 17 years.

Terry Febrey '82
Rochester, N.Y.
Terry Febrey earned two women's soccer All-America honors and was the 1981-82 Broderick Award winner as the nation's top player. She helped Cortland win the first-ever women's soccer collegiate national title in 1980

Frank Ciliberto '83
Spencerport, N.Y.
Frank Ciliberto was a two-time men's soccer All-America defender who helped the Red Dragons reach the NCAA Division III "final four" as a senior and national quarterfinals as a junior.

Tony Zawadzki '86
Melville, N.Y.
Tony Zawadzki overcame physical handicaps early in his youth and shined as a linebacker for Cortland's football team. A two-time All-American, he is the Red Dragons' leader with 393 career tackles.

Stefan Mascoll '99
Haymarket, Va.
Stefan Mascoll was a three-time national champion sprinter for the Red Dragons who earned a total of five All-America honors and nine SUNYAC titles in three seasons.
---