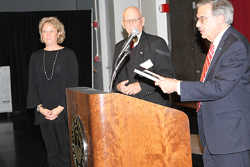 11/09/2018

At the moment when local entrepreneur Johanna Ames was accepting one of SUNY Cortland's highest honors, she turned the tables and took the opportunity to announce a new scholarship and credit the people who enabled her success: her parents.
Ames, the president of the nearly century-old Cortland business, Ames Linen Service, has mirrored the proud, Cortland community service of her family.
SUNY Cortland's College Council in 1993 honored her father, Donald "Bud" Ames, and her grandfather, Donald F. Ames, for their Cortland College Foundation service with the College Community Appreciation Award.
On Nov. 8, she herself accepted that honor as SUNY Cortland's 2018 College-Community Appreciation Award recipient during an invitation-only dinner event in the College's Corey Union Function Room.
SUNY Cortland alumnus and fellow local business leader Stephen Franco '05 offered remarks with SUNY Cortland President Erik J. Bitterbaum during the evening's celebration. Thomas Gallagher, chair of SUNY Cortland's College Council, gave a welcome and co-presented the award with Bitterbaum.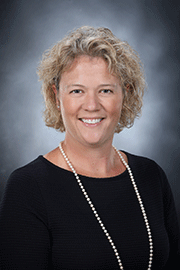 But during the award ceremony, she made the surprise announcement of a new SUNY Cortland academic scholarship that will be awarded to a Cortland County high school graduate as first priority.
The Donald S. Ames and Diane Ames Scholarship was established by Ames and her sister, Tanya Ames, in honor of their parents, who were present that evening. Tanya Ames was not able to attend.
The scholarship was set up as a gift to the College through the Cortland College Foundation, which will manage the scholarship fund.
The approximately $1,000 award will be given to offset the year's college expenses of a full-time, matriculated sophomore, junior or senior in any discipline who has satisfactory academic achievement and, preferably, financial need.
The first scholarship will be awarded next spring for the 2019-20 academic year.
As the endowment grows in the future, the size of scholarship stipend for the student will increase. Whenever a Cortland County recipient can't be found, the scholarship would be given to another New York state high school graduate.
Ames, who currently serves as vice chair of the Cortland College Foundation board of directors and co-chair of the College's upcoming capital campaign, "All In," has spent her adult life serving the Cortland community's interests as a leader striving to improve the region's economic, educational, health and welfare outcomes.
As part of that work, Ames also has been one of SUNY Cortland's strongest supporters.
Ames, who represents the fourth generation of her family to run the enterprise that was founded by her great-grandfather, joined the foundation board in 2010 and previously served on the finance committee. The non-profit organization is charged with overseeing the more than $47 million endowment and all fundraising efforts on behalf of the College. Last year, the foundation provided more than $1.4 million in financial support to students and programs at SUNY Cortland.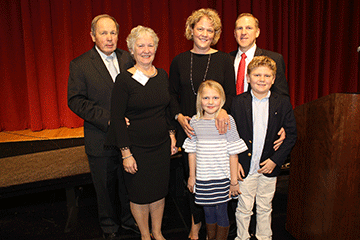 Ames purchased the family business from her father in 2007. Under her leadership, the company became an accredited healthcare laundry, has doubled in size, and continues to grow its service area through partnerships in the healthcare, food and beverage and hospitality markets. Today, Ames Linen Service employs 85 people and serves approximately 1,000 customers in Central New York. An anchor of Cortland's business community, Ames Linen Service was named business of the year in 2009 by the Cortland County Chamber of Commerce.
The Cortland County Legislature appointed Ames as a member of the Cortland County Business Development Corporation's and Industrial Development Agency's board of directors. She works to retain, create, and attract jobs to the community.
Ames also chairs the Cortland Regional Medical Center's board of trustees, overseeing and advising the area's primary medical service provider and one of Cortland's largest employers. CRMC's work extends well into the community, providing programs ranging from health education to support groups. Most recently, she led the hospital's Collaboration Task Force through a two-year affiliation process for the institution.
She also has served on the board of directors for Family Health Network, a not-for-profit health clinic that provides services to under-served populations in Cortland and surrounding communities. In addition, Ames was a board member for United Way for Cortland County.
On the national scene, Ames is the inaugural chair of the Textile Rental Services Association's Women in Textile Services Committee, a group working to recruit and retain women in the laundry services industry.
Ames received a bachelor's degree from Colgate University and is currently chair of Colgate's alumni admissions program for Central New York. She has a master's degree from the University of North Carolina at Chapel Hill. Her husband, Matt Coats, an associate director of athletics at Cornell University, graduated from SUNY Cortland in 1997. They live in Cortland with their children, Mason and Anneke.
The College-Community Appreciation Award is sponsored by the College Council. It was created in 1985 as a means of thanking persons who have assisted SUNY Cortland in a significant manner. Ames is the 38th citizen to receive the honor.
View a complete list of past winners.
---