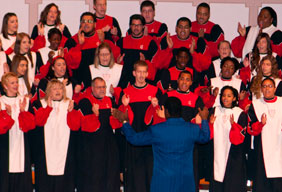 04/13/2011

The SUNY Cortland Gospel Choir celebrates its silver anniversary with a 25th Anniversary Reunion Concert at 4 p.m. on Sunday, May 1, in Old Main Brown Auditorium. The program features alumni and current choir members and will include contemporary and traditional gospel music and spirituals. It is under the direction of Robert Brown. President Erik J. Bitterbaum will deliver the welcome on behalf of the College.
Tickets for the event are $3 for students, $4 for seniors and $5 for general admission. Children under 12 are admitted free. Complimentary tickets are available on a need basis. Proceeds support the Gospel Choir Scholarship and the 2012 international spring tour to England.
Comprised of College, high school and community members, the Gospel Choir has been recognized for its outstanding performances at the National Collegiate Gospel Competition. Earlier this month, the group toured Toronto and Niagara Falls, Canada, and Batavia, N.Y. Recent Gospel Choir tours have included: England in 2007; Canada and Niagara Falls, N.Y., in 2008; Germany, the Netherlands and Belgium in 2009; and Philadelphia, Pa., and Delaware in 2010.
The concert will feature special choir selections in addition to performances by returning alumni, including international recording artist Christine Johnson Sinclair '89, Dorothy Thomas '77, Mark Santiago '09, Zena Jones and Jared Tallman.
Among the selections will be Kirk Franklin's "The Storm Is Over," with Jason Carriero and Melody Byron as soloists; and "Silver And Gold," also by Franklin, with Gospel Choir Alumna Sinclair as soloist and Jamie Yaman on saxophone. An audience favorite, "Perfect Praise," by Richard Smallwood, will be led by Melody Byron. Additional selections will include: "Faithful Is Our God," by Hezekiah Walker; "Order My Steps," by Glenn Burleigh, with Jones as soloist; "Let's Dance," by John P. Kee; "The Presence," by Youthful Praise, with Carierro as soloist; and "Ride On, King Jesus," an African-American spiritual, "Alpha & Omega," by Israel and the New Breed, and "Total Praise," by Smallwood, with Santiago as soloist.
Cortland A Cappella, directed by Noelle Chaddock Paley, director of multicultural life and diversity, will present "Wade In The Water," an African-American spiritual, "Halleluiah," by Jeff Buckley, and "A Life Uncommon," by Jewel.
Thomas will present a medley of traditional hymns and African-American spirituals. "Holy Is The Lamb," composed by Rodney Pressley '87 and his wife, Gi Gi, also will be performed. The final selection will be the ever-popular "Oh Happy Day," by Edwin Hawkins, led by Khalia Brown.
Two other highlights of the afternoon will be performances by alumni. Tallman will sing Dough Miller's "My Soul Is Anchored In The Lord," and Sinclair will sing her nationally award-winning rendition of "Amazing Grace." Alumni and former Gospel Choir members will participate in several selections as part of the Mass Choir. Those who wish to participate in the Mass Choir should attend a rehearsal at 11 a.m. on Saturday, April 30, in Brown Auditorium.
For more information, contact Samuel L. Kelley, Communication Studies Department, via email or at (607) 753-4104; or Seth N. Asumah, Political Science and Africana Studies Departments, via email or at (607) 753-2064.
---