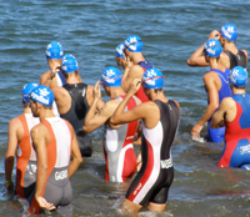 11/20/2012

Within her first few weeks at SUNY Cortland, first-year physical education major Brianna Phillips recognized the importance of seizing opportunities. She competed in her first triathlon, the Cortland Tri for the United Way, in September. By October, she had established a club at the College devoted to the sport that consists of swimming, biking and running.
"I was inspired," said Phillips, of Schenectady, N.Y. "I started thinking about how great it would be to find out if other students are also interested in this up-and-coming sport like I am."
Triathlon Club is the newest in SUNY Cortland's 34 club sport programs. It's open to students, faculty and staff members of all abilities at the College.
Members need not have completed a 140.6-mile Ironman triathlon to join, Phillips joked. The club invites people who are new to the sport of triathlon or those who are interested in learning more about it.
"You put in what you want to get out," she said.
Triathlon Club participants pay a $20 fee to join, which goes to club apparel and fees for a goal race. The group will train for a sprint triathlon that takes place in the spring. The sprint distance consists of a .47-mile swim, a 12-mile bike ride and a 3.1-mile run.
John Foley, a professor of physical education with an extensive racing background, is the club's advisor. Phillips said his past experiences and training advice will be invaluable.
Three hour-long, voluntary practices are held each week — two on weekdays and one on the weekend. During the winter, one swimming practice and two running practices will take place weekly. The running location will depend on the weather, Phillips said.
Triathlon Club is still accepting new members. For more information or to join, contact Phillips.
---