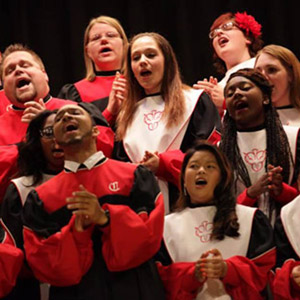 10/21/2014

Voices of praise will ring out in Cortland from two newcomer guest choirs, the Dorothy Cotton Jubilee Singers of Ithaca, N.Y., and the Promise Land Church of Syracuse (N.Y.), during SUNY Cortland's 29th African American Gospel Music Festival on Sunday, Nov. 2.
This year's festival will showcase the SUNY Cortland Gospel Choir and four others, each presenting two songs, one gospel and one a cappella spiritual. Once each choir has performed, a mass choir comprised of all five ensembles will come together and sing the grand finale, "He Is Worthy."
The concert will take place from 4 to 6:45 p.m. in the Corey Union Function Room. A reception to the rear of the Function Room will follow.
The event is open to the public. Admission is free for children under 12, $3 for students and $5 for the general public. Free tickets are available to others on a need basis and families are welcome. Proceeds support SUNY Cortland's Gospel Choir Scholarship and programming funds.
Baruch Whitehead, an associate professor of music in Ithaca College's School of Music, will direct the Dorothy Cotton Jubilee Singers and the SUNY Cortland Gospel Choir both.
Syracuse University's Black Celestial Choral Ensemble will return, under the direction of Byron F. Canada.
Stephanie Okpalor and Aurelie Niyongabo will direct the Binghamton University Choir. Deyquan Bowens will direct the Promise Land Church choir.
Festival musicians, both from Syracuse, will be Deyquan Bowens on keyboard and Benjamin Terry on percussion.
Concert selections will include "No Coward Soldiers," by Glenn Burleigh; "I Don't Feel Noways Tired," by James Cleveland, with soloists Josiah Spellman and Wenday Henderson of the Dorothy Cotton Jubilee Singers; "I Opened My Mouth To The Lord," arranged by Baruch Whitehead; "Everybody Clap Your Hands," by Joshua's Troop; "Lift Up Your Hands," by Anthony Wilkins; and "I'm Prepared to Praise Him," by Leo Smith.
Whitehead, newly named as director of the SUNY Cortland Gospel Choir, has extensive experience in choral directing, performance and certification. Among the choral groups he has founded and directs is the Dorothy Cotton Jubilee Singers, a group of community singers dedicated to the preservation of the "Negro Spiritual." The group is named after long-time civil rights activist Dorothy Cotton, who worked closely with Dr. Martin Luther King Jr. Whitehead also was artistic director of the Ithaca premiere of George Gershwin's opera "Porgy and Bess." He holds a doctorate from Capella University, an M.F.A. from the University of Florida and B.A. and B.M.E. degrees from the University of Cincinnati.
A peace activist, Whitehead presented a peace concert with Israeli musician, composer and performer Yair Dalal along with a special group of young people from the Muslim and Jewish community. His "Peace Cantata" was premiered at the 2006 Martin Luther King Celebration at Ithaca College. He received Ithaca College's 2005 Excellence in Service Award.
The SUNY Cortland Gospel Choir is a part of the College's Africana Studies Department. The choir is supported by the Center for Gender and Intercultural Studies, the Alumni Engagement Office, the Cortland College Foundation, the Division of Student Affairs, the offices of the President and the Provost and Vice President for Academic Affairs, and the student activity fee.
For more information about performances, tickets and special assistance, contact Distinguished Service Professor Samuel L. Kelley at 607-753-4104, Karlene Anderson or Deborah Dintino.
---