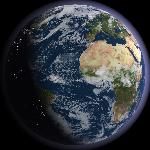 03/27/2012

SUNY Cortland recently earned an impressive silver rating in a national program that tracks environmental sustainability efforts on college campuses.
The College was one of only 32 campuses nationwide to attain a silver rating in the voluntary assessment, a program of the Association for the Advancement of Sustainability in Higher Education. Only 19 schools have done better, reaching a gold designation.
"It is impressive to think how far we have come in such a short period of time," SUNY Cortland President Erik Bitterbaum said. "When it comes to our sustainability mission, this program illustrates how truly committed the College is to reducing its carbon footprint, using all its resources effectively and raising awareness of environmental issues among our students and in our community."
The Sustainability Tracking, Assessment and Rating System, also known as STARS, is a self-reported assessment that collects a wide range of sustainability information on College initiatives, capital improvements, academic programs and other issues. Once completed, it serves as a baseline for measuring progress on a campus's environmental goals. It must be upgraded every three years.
At SUNY Cortland, the effort was led by Nasrin Parvizi, associate vice president for facilities management, who worked with a range of campus departments and offices to collect information needed to create a comprehensive picture of the College's effort.
It is part of a larger effort by SUNY Cortland, a charter signatory to the American College and University Presidents' Climate Commitment, to cut its overall greenhouse gas emissions by 80 to 85 percent by 2050.
The report highlighted many of the College's sustainability initiatives, including its development of a long-range climate action plan, ongoing energy conservation efforts and commitment to LEED (Leadership in Energy and Environmental Design) certification of all new building construction, the creation of Sustainability Week and environmental programs at SUNY Cortland's Center for Environmental and
---