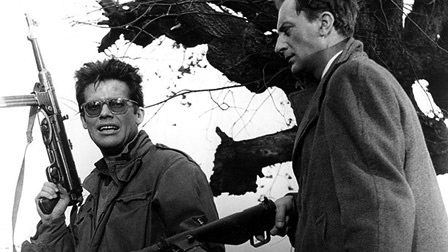 09/25/2014

Andrzej Wajda's 1958 film, "Ashes & Diamonds," will be shown Wednesday, Oct. 29, continuing SUNY Cortland's "Rubble" 2014-15 film series.
Presented by the College's Project on Eastern and Central Europe (PECE) and the History Department, the movies depict the World War II aftermath, also known as "Europe — Year Zero," set amid the rubble of postwar Europe.
"'Rubble' is also a metaphor for the damage to people and societies and for the chaos and uncertainty that shaped their shattered lives," said SUNY Cortland Distinguished Service Professor Henry Steck, a professor of political science. Steck is the PECE series organizer with Scott Moranda, an associate professor in the History Department.
"The films were not only set in 'rubble' but were often made by filmmakers working in conditions that gave their films an authentic and gritty realism," Steck said. "And beyond their historical and cinematic importance, the films provide an opportunity for audiences to reflect on the reconstruction of war-torn and occupied countries more generally."
"Ashes & Diamonds," will be shown at 7 p.m. in Johnson Lecture Hall, Sperry Center, Room 106. The room was changed from Sperry Center, Room 304. The screening features an introduction and post-film discussion with Steck and Moranda. The Polish film takes place on the last day of World War II, when the Germans surrender. A soldier is stuck between falling in love with a woman and assassinating a fellow soldier.
The film series is co-sponsored by the Political Science Department, the Clark Center for International Education, the International Studies Program, the International Programs Office and the Auxiliary Services Corporation.
For more information, contact Steck at 607-753-4807.
Prepared by Public Relations Office intern Victoria Lewis
---