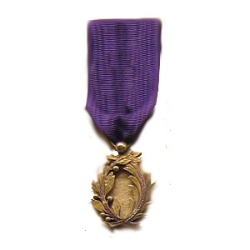 06/10/2014

In beautiful seaside La Rochelle, France, Marie Ponterio's childhood home, one almost expects a knight in armor to canter past Medieval battlements surrounding this Gallic city and nearby islands.
Fortuitously, knights still roam the French landscape, and Ponterio now is one of them. In May she earned a prestigious honor bestowed annually on only a handful of its citizens and non-citizens, Chevalier dans l'Ordre des Palmes Académiques (Knight in the Order of the French Academic Palms).
Her native republic still confers this academic, rather than military, knighthood, upon French as well as foreign nationals around the world who it considers have contributed the most to promoting French language and culture.
The palmes académiques was created in 1808 by Napoleon and is the oldest non-military French decoration. Today, it recognizes the significant contributions of teachers through their teaching, scholarship and leadership over the course of their careers.
France's prime minister conferred the honor upon recommendation of its Minister of Education and the Embassy of France in New York sent her an announcement letter in early May. Ponterio, who has been listed among Who's Who Among America's Teachers, is entitled to have a formal investiture ceremony through the French embassy. Instead, she will uncork Bordeaux with close friends and colleagues.
A SUNY Cortland lecturer since 1989, Ponterio has done her best to share all things French, in the classroom, in textbooks, through a study abroad program situated in her hometown, and most of all through a popular and influential cultural website she started in 1996, Civilisation française.
Marie Ponterio pauses for a moment in her office, surrounded by pictures and literature from her native France.
Ponterio was nominated for the recognition by Catherine Porter (Lewis), a professor emerita of French at SUNY Cortland, who was herself named Chevalier dans l'Ordre des Palmes Académiques in 1996 and who served during 2009 as president of the Modern Language Association of America (MLA), an international organization serving English and foreign language teachers.
"I told her, I don't deserve this honor," said Ponterio, who has a bachelor's degree in French literature from Binghamton University and a master's degree in teaching French as a second language from University of Illinois at Urbana Champaign. "She just laughed. She said she was impressed with an article that I sent her to promote the French language and culture."
In 1996, Ponterio's husband, SUNY Cortland professor of modern languages Robert Ponterio, obtained a grant from the Languages Across the Curriculum Multimedia Development Project through the SUNY Office of Educational Technology.
"It was up to me what I wanted to do with this $4,000 grant, and I decided to create a website to help students and French teachers," Ponterio said.
"It's expanding and I'm still working on it," said Ponterio, who was inducted in 2006 as an honorary member of Phi Beta Delta, the international honor society, and is an honorary member of Pi Delta Phi, the French honor society.
The site is replete with many hundreds of images of culture, landscape and architecture, numerous short television clips, links to other sites, homework and quizzes for her students and all kinds of activities. Civilisation française is invaluable to teachers with little or no actual time spent in France.
Usually rated as "excellent," it has been referenced in more than 4,800 websites around the world including by the National Endowment for the Humanities and La France en Chine created by the French Embassy. Civilisation française is used in language and methodology courses by many universities in the U.S. and abroad, including the University of Angers, France, the California State University, Cornell University, Swarthmore College, the University of Rochester, the University of Leon, Spain, and the University of Dublin at Trinity College. Many French online resources for French learners websites avail themselves to her site, such as Le Point du FLE as well as in British, Canadian, Spanish, Finnish and German websites.
Ponterio's online materials usually exceed 250,000 hits per month during the school year.
"I take great pride that my work is reaching so many teachers and students around the world while increasing SUNY Cortland's visibility," she said.
Her website has received the Multimedia Educational Resource for Learning and Online Resources (MERLOT) Award for Exemplary Learning Resource for World Languages and was selected among the MERLOT Classics for 2004.
"It's a wonderful tool to give teachers to make the walls of the classroom disappear," Ponterio said.
"I think the first thing is to realize that not everybody is the same. This is one way to show them that yes, we have a lot of values in common, we may share the same Christian culture, but there are many differences and it is especially important for people in business and government to be aware of them."
Robert Ponterio has provided the technical support over the years, she said.
Originally intended to support her students and French language secondary educators, the website immediately attracted comments and inquiries from teachers, tutors and many others who wanted to learn about France.
"Today, everyone knows we're all connected but in 1996, we didn't quite realize that," Ponterio said. "Not many (secondary) school classrooms had computer labs."
Many British, German and Spanish educators use the site to illustrate the technology and methodology of using a website in foreign language instruction.
In her own classroom, Ponterio has implemented a communicative approach in a student-centered environment where students most often interact in French through group activities. To integrate French culture, illustrate the authentic use of the language and to motivate students who have different learning styles, Ponterio often uses total physical response (TPR), where students act out a word or expression.
"This also lends itself to the teaching of French body language," Ponterio said.
In 1999, Ponterio was instrumental in the creation of a new exchange program in her native city, and regularly serves as a liaison between the director of the program at the Université de La Rochelle and SUNY Cortland's International Studies program staff.
She is the co-author of high school level French textbooks, as well as the author of book reviews, video and multimedia reviews, and translations of scholarly articles. Ponterio has given numerous conference presentations.
---