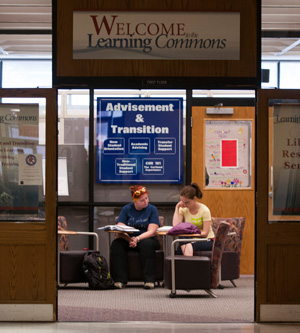 11/05/2013

Although their backgrounds often are wildly different, they all have interesting stories to tell.
Most delayed college for a year or more after high school graduation. Many squeeze in undergraduate classes after full workdays. Usually, they are older — sometimes by decades — than their fellow students on campus.
They are SUNY Cortland's non-traditional students. The College will celebrate them during Non-Traditional Students Week, now through Saturday, Nov. 9. Each day, special activities will take place. And each day through Friday, Nov. 8, an inspiring non-traditional student will be introduced to the SUNY Cortland community.
But those aren't the only inspiring "nontraditional" students on campus. The College is accepting nominations for the "Celebrate a Non-Trad" campaign through Wednesday, Nov. 13. This campaign gives campus community members an opportunity to recognize students who balance college with commitments such as families and long commutes through a certificate and campus-wide recognition.
Forms are available online as well as in Advisement and Transition, located in Memorial Library, Room A-111.
The College defines its non-traditional undergraduate students as those who are at least 24 years old or have had an interruption or delay in their education since high school. They also might have dependent children, regardless of their ages.
Approximately 300 non-traditional undergraduates study at SUNY Cortland. Here are just a few of them:
Friday, Nov. 8

Danielle Bauer and Chris Coles
Bauer and Coles
with daughter Cali
Young parents can take lessons in time management from seniors Danielle Bauer and Chris Coles. The couple has managed to raise infant daughter Cali while both mom and dad study at SUNY Cortland full time. It hasn't ever been easy, but every step has been worth it, they say.
"The day care has been phenomenal," says Chris, a business economics major, referring to the SUNY Cortland Child Care Center. He met Danielle, a therapeutic recreation major, when they were both students at Jefferson Community College. After obtaining their associate's degrees, they settled on SUNY Cortland while Danielle was pregnant.
"We have our jobs, day care and education in one spot," says Chris, explaining that both he and Danielle work part time for Auxiliary Services Corporation. "We wouldn't be able to do it any other way."
They will graduate in May and plan to get married once their educations are complete. For now, however, they manage their class schedules, work schedules and childcare meticulously — thankful for the ability to effectively study and raise Cali together at the same time.
Thursday, Nov. 7

Sherry Howell
Howell
It doesn't take long for strangers to pick up on Sherry's positivity in all that she handles. A single parent of three, she practices patience, sympathy and optimism both at home and at school.
"As a student, I find myself understanding my own kids better now," says Sherry, 38, who has two children at other SUNY institutions. Sherry, like many other non-traditional undergraduates, looks for the good in every situation.
That's one of the reasons she enjoys studying inclusive special education and why she hopes to work with children who face behavior challenges. "It's important to be open, to try to be flexible," Sherry says. "It's not always easy, but it's important."
Wednesday, Nov. 6

Justin Miller
Miller and Dinah,
his service dog
Assignment deadlines and exams aren't insurmountable obstacles for Justin. The same can be said for the injuries he suffered while serving in the U.S. Army. Like many non-traditional students, he turned a possible setback into his motivation.
His service dog Dinah helped him overcome issues with his back. "Therapeutic recreation got me motivated," says Justin, 28, who toured in Iraq and competed in shooting at the 2012 Warrior Games for wounded service members. "It got me on my feet." Not surprisingly, therapeutic recreation eventually became the sophomore's major at SUNY Cortland.
Justin saw the benefits of the discipline firsthand, which is why he hopes to share its benefits with as many people as possible after he graduates.

Tuesday, Nov. 5

Lisa Ruquet
Ruquet
Year after year, Lisa has juggled part-time classes with full-time mom duties. First, she earned the equivalent of a high school diploma. Then she earned her associate's degree at TC3. Now, the psychology major is on the cusp of earning a bachelor's degree at SUNY Cortland.

"It was a process," says Lisa, 40, who has three children spanning elementary school to college. "I guess I have perseverance." She, like many other non-traditional students, manages to remain an excellent scholar without letting her parental responsibilities slip. Often, she waits until her kids and the rest of the world are asleep before digging in to handle her assignments.

Lisa, whose husband is a schoolteacher, would have been a model mom for her kids without a four-year degree. But with it, she becomes a living example of how determination and hard work can overcome obstacles to achieve important goals.
Monday, Nov. 4
Chris Caughey

Caughey
Chris came back to Cortland to finish what he started more than a decade ago: his college education. In many ways, he represents the commitment non-traditional students bring to campus every day.
Chris grew up in Cortland, played basketball on the College's outdoor courts, and graduated from Cortland High School in 1997. He started an associate's degree at Tompkins Cortland Community College (TC3) but enlisted in the U.S. Army before completing it. Five years of service included two deployments overseas to Iraq. And when his duties were up, he knew what he wanted to do and where he wanted to be.
"I've always liked SUNY Cortland," the exercise science major says. Now 34 years old, Chris will finish his degree in the spring.
---