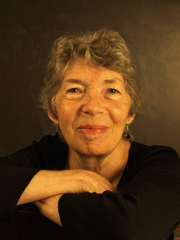 04/12/2011

Award winning author Ginnah Howard will come to SUNY Cortland on Monday, May 2, to discuss the different aspects of writing and publishing a novel.
Howard will share her experiences and influences in a lecture titled, "How to Write and Publish a Novel," beginning at 4:30 p.m. in Sperry Center, Room 304.
Sponsored by a grant from the Campus Artists and Lecture Series (CALS), the talk is free and open to the public.
Howard came to writing by chance in her late 40s, when the New York State English Bureau began to press all teachers to actively write with their students. With encouragement from a poet and the gift of time when both her children were away from home for the first time, Howard began her career as a writer.
"Being able to spend time alone, to mull, to enter the fictional world, is especially helpful in writing a novel," Howard says. "It's a long trip and if the bus is a local, stopping 20 times a day, one loses the blurry belief that there's a final destination."
Her novel, Night Navigation, is a work of fiction. However, Howard says, "Its characters and much of its development are based on research and invention. The core of the story springs from real events in my own family's life."
"Junkies, cons, brothers, sons, mothers, lovers: how can Ginnah Howard know all these sorts so inwardly, so passionately well and weave together their lives so suspensefully?" said Matt Leone, director of the Colgate Writers' Conference. "Here is a tour de force of the most valuable, the most poetic, the hardest earned insights: those that are intensely felt, imagined, lived. I don't recall ever having been so struck by a first novel before."
For more information on this author, visit her website at www.ginnahhoward.com/news.html. For information about the lecture, contact Victoria Boynton, associate professor of English, via email or telelphone at (607) 753-2082.
---