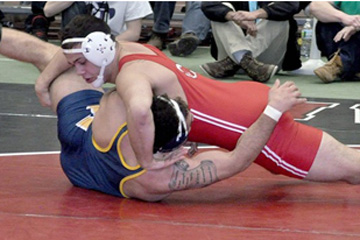 04/07/2015

When wrestler Joe Giaramita and gymnast Maddy Scozzie recently traveled to the national championships for their respective sports, their mindsets were similar: do it for the team.
Giaramita, a junior who entered as the No. 4 seed in the 197-pound weight class, had his sights set on an individual national title at the NCAA Div. III Championships in Hershey, Pa. So in order to keep calm and save energy during matches, he focused his attention on fellow teammates who also were vying for national crowns.
Scozzie, a junior who was competing at the National Collegiate Gymnastics Association (NCGA) Championships in La Crosse, Wis., said she wasn't even thinking about the second day of competition, which determines individual titles. Her primary focus was the team competition.
"Since gymnastics is so team-oriented, we don't even think as much about the second day," said the Ashburn, Va., native. "You're really just going all in as the team."
Both Red Dragons ended up capturing individual national titles in March — the College's first in two years.
"Once I won, it was incredible," said Giaramita, of Elwood, N.Y. "It was euphoric."
It also was dramatic. After knocking off the bracket's top seed with a pin in the semifinals, he won a 6-4 decision with a takedown in overtime. Giaramita, who finished 32-1 on the season and now boasts three All-America honors in his career, went 5-0 at the national championship en route to SUNY Cortland's first individual title in wrestling since 2006.
"I didn't really care about seeding because I knew that I had to beat the best to get there," said Giaramita, whose only loss on the season came in November to a three-time NCAA Div. I qualifier from Harvard.
Scozzie, who finished in a four-way tie for the title in uneven bars, entered the second day of competition aiming for an effort she could be proud of. She finished with a career-best score of 9.80.
"I thought, 'That definitely was the best routine of my life,'" said Scozzie, whose title gave SUNY Cortland's Athletics Department an even 100 individual national crowns in its history.
The College's gymnastics team finished fifth nationally and its wrestling squad placed 13th. Both Giaramita and Scozzie — while still enjoying their individual success — said the goals for their senior seasons start with their respective teams.
"It's always about the team really," Scozzie said. "As a team, a national championship is the goal."
---