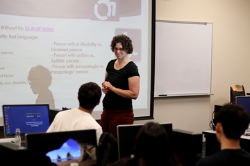 07/12/2019

It was all fun and games for a group of 10 South Korean students who used SUNY Cortland as a base for hands-on learning experiences that included the home turf of the NFL's Buffalo Bills, Syracuse University's Carrier Dome, Yankee Stadium and the Baseball Hall of Fame Museum in Cooperstown, N.Y.
Of course, fun and games are exactly what the visiting sport industry students are studying. And SUNY Cortland's faculty and facilities provided the academic framework.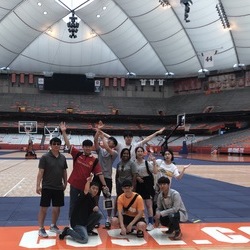 A new collaboration between SUNY Cortland and Hanyang University in Seoul, South Korea allowed those students to learn from Cortland's sport management professors as well as industry professionals during their American adventure, which ran from June 21 to 30.
The program consisted of a series of lectures by SUNY Cortland's sport management faculty and visits to sports facilities around the state.
Faculty members Mark Dodds, Peter Han, Tara Mahoney, Erin Morris, Matthew Seyfried and Ryan Vooris lectured on topics that included international sports law and marketing, sports analytics and social media, and strategic management.
The South Korean students also visited with the NFL's Buffalo Bills, the Baseball Hall of Fame and Museum and NYCFC, the Major League Soccer team that plays its home games at Yankee Stadium. Visits to the New York Mets' minor league affiliates in Syracuse and Binghamton were also part of their American tour. The group also explored Syracuse University's Carrier Dome and SUNY Cortland's stadium complex and Student Life Center.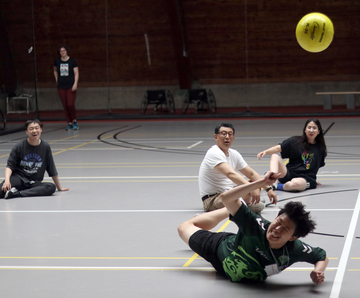 Third-year student Intae Hwang said he is still unsure about his career plans after graduation but was grateful for the opportunity to learn from SUNY Cortland faculty and those who work directly in sports.
"For me, personally, I wasn't really used to American sports," Hwang said. "I'm a huge soccer fan of teams in England and Spain. It was really interesting to see American sports. Even if it was minor league, it still had amazing sponsors and entertainment for fans. It was really meaningful to have a look at those sports."
Morris talked to students for two hours about adapted sports for people with disabilities and then led demonstrations of wheelchair basketball, adapted volleyball and goalball in Lusk Field House.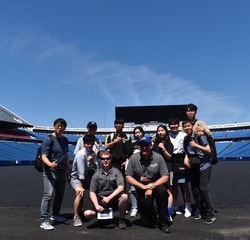 Sung-Bae Roger Park, director of the Center for Strategic Management of Sport Industry at Hanyang University, travelled with his students. A grant from the South Korean government has allowed his students to take similar trips to sites in Australia and the United Kingdom. He hopes this collaboration with SUNY Cortland may continue in some form in the years to come.
"The main purpose of this visit was to give an opportunity to my students so they can take a look at venues, teams and front offices of sports organizations and get hands-on experiences," Park said. "How do they operate? What are their revenues, expenses and event security? This is a great opportunity for my students to learn in the United States."
Peter Han, chair of SUNY Cortland's Sport Management Department, is excited to see the link between the two institutions expand.
"I understand Hanyang University currently has partnerships with colleges and universities overseas," he said. "Professor Park mentioned that there are about 10,000 international students, which accounts for a quarter of the total student population at Hanyang University. We are hoping to be able to explore other opportunities to develop a further partnership with Hanyang University in the future."
Sports are popular in South Korea, particularly baseball, basketball and soccer. The country hosted the Summer Olympics in 1988 and the Winter Olympics in 2018, as well as other major international sporting events. As the sports industry in South Korea has grown significantly since 1988, there is a strong and growing interest in the field.
Park expects that their experiences through Cortland will help prepare them for their future in sports.
"The faculty have different teaching strategies and methodologies," Park said. "My students were surprised and very impressed with case studies and discussion and one-way lecture and their personal experiences. This was a perfect combination of academics and hands-on experience in the industry."
---