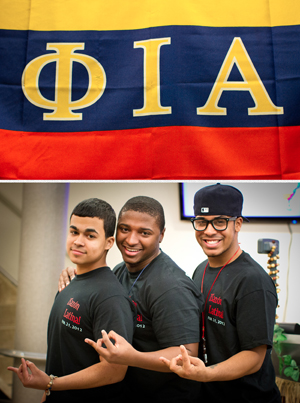 03/20/2012

The life of Latino students at SUNY Cortland begins to have a decidedly Greek look.
That's Greek as in fraternities and sororities, not The Acropolis of Athens. The opportunity for students of Latino and Latina descent and their friends to find cultural understanding, fellowship and emotional and academic support continues to increase as the number of Latino/a Greek organizations on campus expands from three to four.
Four female students will restart a Sigma Lambda Upsilon chapter, dormant on campus since the mid-1990s. The renewed Epsilon chapter of the Latina-oriented sorority at SUNY Cortland was recognized on Jan. 1. The future sisters will meet soon to formally express their interest in relaunching the chapter here.
"The expansion of the Latin American-focused groups is very much student driven," said Sandra Wohlleber, the College's assistant director of campus activities and Greek affairs. "These fraternal organizations speak to both who they are now and where they have come from."
Latino and Latina classmates affiliated with Phi Iota Alpha share a hand symbol of international brotherhood at the Sazón Latina dining event at Neubig Hall. They are, from the left, Jason Carriero, Phoebe Felix, Gustavo Santiago and David Paulino. Shown above left are Phi Iota Alpha brothers Brandon Matos, Shavar Evans and Jason Carriero. (All photos by Jonathan Rodriquez)

"You have community service opportunities," she said. "You have leadership opportunities. You have the value of academic success. As the added twist, you have the cultural heritage experience and value."
"I think it's a great thing," that a Sigma Lambda Upsilon chapter will start up here, said Jasmine Chandoo, who has served as president of the other Latina sorority on campus, Omega Phi Beta Sorority, Inc.
"Especially because they were on this campus before and now they're bringing new faces to Cortland," said Chandoo, a senior childhood education major. A Bronx, N.Y., native, she currently can't be as active in her sorority because she's in Tarrytown this spring completing her student teaching before she graduates in May.
"There is so much more (Greek) unity in Cortland, so much more awareness between all the Greeks of multiculturalism on campus," she said. "So I think it's amazing that Sigma Lambda Upsilon is coming back to campus."
At SUNY Cortland, the number and visibility of students who self-identify as 'Hispanic' in culture has gradually but steadily increased, with Latino/Latinas making up 16.6 percent of the 2010 freshman class, a sharp spike over prior years and almost five times as many as had become freshmen in 2000. In that same timeframe, Latin American individuals who comprised total graduates rose from 0.7 percent in 2000 to 1.4 percent in 2010.
"This is our way of enhancing the experience for one of our underrepresented populations, Latinos, the size of whose population is growing and whose retention rate is increasing as well," Wohlleber said. "We feel this is partially due to the welcoming environment and additional cultural opportunities present on our campus."
In recent years, the following three Latino/Latina fraternal organizations have sprung up at SUNY Cortland:
• Four male students formed the oldest cultural Greek organization that is currently active at SUNY Cortland, Lambda Upsilon Lambda, in February 2007. This group remains a colony with two brothers currently active with the fraternity.
• On Aug. 1, 2010, four male students started a Phi Iota Alpha colony that continues to seek chapter status. The group currently has seven members. Nationally, they are part of the oldest Latin American fraternal organization, having been formed in 1931.
• The other sorority, Omega Phi Beta Sorority Inc., was granted Beta Theta chapter status by the national organization this past fall, after having been formed in April 2009. The group has three sisters active in their sorority.
Enjoying the Sazón Latina dinner at Neubig Hall were Jose R. Valdez, shown in the foreground, and Glodibal Natera.
"One of the things I've learned in speaking with all the students is that, among our underrepresented students, there aren't a lot of what they feel are extracurricular activities that are of interest directly to them," Wohlleber explained. "With Latino groups, part of their goal is to share their cultural values and history so they can educate their peers and the community in general about the rich, cultural background they come from."
For example, recently the Phi Iota Alpha fraternity worked with the College's Auxiliary Services Corporation to plan an evening of authentic Latin American food, décor and music at Neubig Hall. The menu featured 34 appetizers, entrees, side dishes and desserts from the Caribbean, Central America, South America and Mexico. The late February event, Sazón Latina, was very well attended by students of all nationalities on campus, between 900 and 1,200.
"We all went back home at Thanksgiving and brought back 'grandma recipes,' as I like to say, so people could actually taste the home-cooked food from our perspective," said Jonathan Rodriquez, the president of Phi Iota Alpha and a founding brother. "We had complete recipes of everything. We made an oath that we would help out ASC all the way, from picking the clothing to the food and recipes and all that stuff. Because we're very familiar with the Latino culture.
"We had a great show of support from our Latino Greek brothers and sisters, including on-campus organizations and our visitors from two different schools, at SUNY Oswego and Syracuse University," said Rodriquez, a junior international studies major from Yonkers, N.Y.
The College's administration plays a role in fostering all new Greeks on campus, including social, service and cultural fraternal organizations.
"After detailed conversations with the national organizations to make sure their values are in line with SUNY Cortland's, we make sure we share the common goal of success for our students," Wohlleber said. "And this is the end result."
The cultural Greek organizations are typically small in number, whereas the social sororities can have as many as 100 members, Wohlleber said. One reason for their small size is that cultural Greek organizations tend to have a much more careful recruitment process.
Alitia Braithwaite, shown in the foreground, enjoys the occasion with her friend, Aliyah Yazmeen Sullivan.
"In our organizations, we look for quality over quantity of women," Chandoo said. "We believe if we can find strong women, they can move forward and make our vision continue."
She noted the sisters may find themselves flexing their muscles together working out at the gym or toning their minds together in the sorority's weekly library study buddy sessions that are open to all. They might host a Safe Halloween event for local schoolchildren at the YWCA or sponsor an educational event focusing on Hispanic or Indigenous culture.
A model Greek representative, Chandoo also has served as vice president of the Greek Multicultural Council and treasurer of the Urban Education Club. She has studied as a scholarship recipient in the College's Cortland Urban Recruitment of Educators (C.U.R.E.) Program.
"I was a very shy person before and through my education membership program, which I went through with three other young ladies," Chandoo said. "It helped me grow and become more confident in myself. It also showed me professionalism. I knew what professionalism was, but through my organization we focused very much on how to be professional and how to carry yourself as a woman.
"Also we're basing our organization on woman empowerment," she said. "We're always there together to support each other and tell each other, 'Nothing can hold you back because of your gender.'"
"We have a brother who is going to come up from SUNY Stony Brook to discuss the power of networking, such as Linked-In and other social networking," Rodriquez said. "We want to educate people about what to do next for their career. We try to set an example of professionalism and service."
This spring his brothers plan, for example, a series of game nights with young people at the Cortland Youth Bureau.
"In the Sazón Latina, we incorporated a fund-raiser for UNICEF, our international charity," Rodriquez said. "We sold stuffed animals at the dinner and raised over $250 for UNICEF toward our $500 goal this semester."
None of the cultural Greeks owns or has plans to own or occupy an off-campus chapter house.
"A Greek organization is not defined by its physical structures but by the values and ideals held by its members," explains Wohlleber.
Nor are members of a Latin American Greek organization necessarily defined by their ethnic roots, according to Chandoo and Rodriquez.
"We are a Latina oriented organization and we do have aspects of our organization to reflect Latina culture, but we do accept women of all nationalities," said Chandoo, recalling the two Puerto Rican sisters and one Bangladeshi sister who completed the membership intake class with her in Syracuse.
"I'm Dominican and Trinidadian, and the other three women who joined the sorority with me are Cuban/Dominican, Ecuadorean, and Cherokee Indian/African American," Chandoo said. "A founding sister was Irish. We came from very different cultures."
A Sazón Latina dining event at Neubig Hall attracted classmates from many different cultures to share food with a connection to Latino heritage.
Members presently find sufficient family ties in the companionship of their organizational brothers and sisters on campus as well as at other universities in Binghamton, N.Y., and Syracuse, N.Y.
"We definitely lean on each other, Rodriquez said. "If school isn't in session, we'll go and visit each other. And there's definitely a support system. We use communication means like social media and social networking sites to communicate with each other. We see each other's flyers and try to show up at each other's events."
"All our Greek multicultural groups are under the National Association of Latino Fraternal Organizations (NALFO), with one vision that unifies us," Chandoo said. "We are unified with other organizations in the Pan-Hellenic council because we all have something in common.
"We join these organizations for various reasons but at the end of the day, we all have common reasons for being in the groups," Chandoo said. "Ours is advocacy to end violence against women. And we're very big on community service and giving back.
"As a marginalized group of people, we all look to strengthening ourselves," Chandoo said. "We always lean on each other, depend on each other to strive for more and do better all the time. So I think that one thing that unifies us besides our cultural background and maybe our experiences is the fact that we all know that we have gone through a struggle. We push forward so that we can do better for ourselves, better than our parents hoped."
"We operate 'big' because we have a small number of people," Rodriquez said. "We try to have the biggest impact we can. You read the statistics that many Latinos are not going to college or finishing college. We're proud because the number of people in Latino Greeks is definitely the largest we've seen. This shows progress."
---