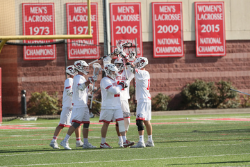 09/18/2019

SUNY Cortland will host a pair of college lacrosse exhibition games as part of its C-Lax Legends Weekend, Oct. 4 to 6.
On Friday, Oct. 4, SUNY Cortland's men's lacrosse team will take on the New York Institute of Technology at 6 p.m. at the Stadium Complex. NYIT is coached by Billy Dunn '80. A small fee will be charged at the gate to support a charitable cause.
On Saturday, Oct. 5, the men's lacrosse teams from the University of Denver, coached by Bill Tierney '73, and Syracuse University square off at 7:30 p.m. at the Stadium Complex. Tickets are $5 and will be available at the gate. Proceeds will benefit SUNY Cortland men's lacrosse.
Dunn is 118-61 overall as the head coach at NYIT and most recently led the team to the NCAA Division II tournament in 2018. He previously worked as a physical education teacher and coach at various high schools in the Long Island area. A defenseman at SUNY Cortland from 1977 to 1980, Dunn helped lead the Red Dragons to three consecutive SUNYAC championships.
Tierney has won an NCAA-record seven national Division I men's lacrosse titles as head coach, including stops at Denver and Princeton University. He led Denver to a national championship in 2015 and earned the U.S. Intercollegiate Lacrosse Association National Coach of the Year award. Tierney, a member of the C-Club Hall of Fame, was a member of SUNY Cortland's national championship men's lacrosse team in 1973.
He is also an inaugural member of the men's Lacrosse Legends Club, which will hold its first initiation dinner on Saturday, Oct. 5. The other 2019 inductees are Joseph Cuozzo '59, Mike Messere '66, Richard Speckman '67, Dave Urick '71 and Paul Wehrum '72.
The weekend serves as a celebration of the formation of the Cortland Lacrosse Legacy Club and will feature a wide variety of events for former players, friends and their families. For a full list of events and to learn how to register, please visit RedDragonNetwork.org.
---