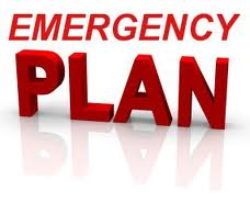 01/21/2014

SUNY Cortland wants all of its faculty, staff and students to start thinking about the unthinkable.
Faculty and staff today were given a brief overview of the College's recently updated emergency response plan after President Erik J. Bitterbaum's spring opening address.
The overview included an explanation of campus roles and responsibilities during unexpected emergencies such as a building fire, a devastating storm or an armed attacker. It also included a sneak peek at a new emergency response website intended to give members of the campus community the information they need to react effectively during a crisis.
The website should go live within the next two weeks. All students, faculty and staff members will be sent information on how to access the site.
"SUNY Cortland is a very safe campus, but disaster can strike anywhere, at any time," Bitterbaum said. "It is important that all of us know how to respond. Although we may be caught by surprise, we want to make sure we aren't caught unprepared."
A video of the president's speech -- and the emergency response presentation that followed it -- is available online at http://www2.cortland.edu/video.
A more detailed explanation of both the plan and the website will be presented during a sandwich seminar scheduled for noon on Thursday, Jan. 30, in Brockway Hall Jacobus Lounge.
The new website evolved as part of the updating process for the plan. An emergency response committee appointed by Bitterbaum re-wrote the lengthy document, much of which will be made available to the public.
The committee includes: University Police Chief Steven Dangler, Associate Vice President for Facilities Management Nasrin Parvizi, Associate Vice President for Communications Gradin Avery, Associate Provost for Information Systems Amy Berg, Assistant Vice President for Student Affairs Christopher Kuretich, Environmental Health and Safety Director Glenn Wright and Public Relations Director Frederic Pierce.
The plan sets up a communications hierarchy to evaluate all incidents and quickly notify all appropriate individuals. It works essentially like this:
University Police are the first responders to any incident on campus. They immediately determine whether to activate the New York Alert system and decide whether the crisis communications team is needed.
That team, which mirrors the makeup of the emergency response committee created by the president, quickly crafts the appropriate messages needed to keep the campus safe and begins communicating through a wide range of media. The crisis communications team then notifies the President's Cabinet and other key players. That larger group of people, which changes depending on the needs of the incident, is called the Emergency Response Resource Group.
This group addresses the emergency situation and notifies all affected building administrators, who are charged with notifying students, faculty, staff, visitors and anyone else in campus facilities. Ideally, most of those people will already be aware of the emergency through New York Alert notifications and the efforts of the Crisis Communications Team.
All members of the SUNY Cortland community are urged to update their information with SUNY Cortland Alert to make sure they receive the most recent information on fast-moving, potentially dangerous situations. They can do so through through the Campus Emergency Notification Page of SUNY Cortland's emergency website.
---