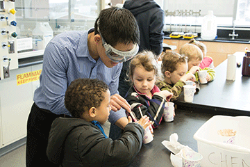 01/28/2020

Future teachers need to take note that more and more schools across the country will focus a week in February to discuss and hold events celebrating the value of racial diversity in the classroom.
More than 25 schools across the country celebrated Black Lives Matter at School in 2019 and more and smaller districts are doing so this year, according to a National Education Association (NEA) website.
In recognition of the national Black Lives Matter at School Week of Action, four educators from school districts in Syracuse, Binghamton and Ithaca will discuss critical issues in adopting such programs in schools or individual classrooms Tuesday, Feb. 4, at SUNY Cortland.
Titled in "Black Lives Matter in K-12 Schools," the presentation launches the university's monthlong series during Black History Month and Black Lives Matter Week.
The event takes place from 4:30 to 6 p.m. in Sperry Center, Room 105, and is free and open to the public.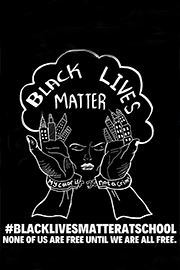 "It's about what assets black students bring to schools, what oppressions they face and what teachers can do," said an organizer, Rhiannon Maton, a SUNY Cortland assistant professor of foundations and social advocacy.
The panel, which will hold a conversation about supporting and affirming black students and families, will include:
Lisa Sahasrabudhe M.S.Ed. '93, coordinator of equity issues for the Ithaca City School District
Alex Scher, a social worker with the Ithaca District
Dario Vazquez '06, M '12, C.A.C. '18, an administrator with the Binghamton City School District, and,
Reba Hodge, an administrator with the Syracuse City School District.
Margaret Gichuru, a SUNY Cortland assistant professor of childhood/early childhood, will moderate the discussion.
The panel will discuss what assets black students bring to schools, what barriers they face and what educators can do to better support black students and families in schools.
"Our preservice teachers will go into schools where Black Lives Matter at School is recognized and there are various activities taking place," Maton said.
"Some of them are sort of big panel events or celebrations or film viewings that are accessible to anyone in the district," she said. "And some of the things that are taking place are in an individual teacher's classroom.
"Even if their local district is not recognizing the week, they can do activities within their own classroom to support students there as well as educate them about racial oppression in this country and show them what they can do to make the world a more equitable place," Maton said.
Besides Maton, organizers include Amanda Miller, assistant professor of foundations and social advocacy and Kate McCormick, assistant professor of childhood/early childhood education.
The presentation is sponsored by the university's Cortland Urban Recruitment of Educators (C.U.R.E.) program; School of Education; Foundations and Social Advocacy Department; and Sophia's Garden.
Black History Month events will include historical and cultural lectures, readings, musical performances, film screenings and other activities, including the following:
Robert Spitzer, SUNY Distinguished Service Professor and chair of political science, will moderate a department panel discussion on "The Impeachment of President Donald John Trump" on Wednesday, Feb. 5.
Panelists from the Political Science Department will include: Associate Professor Timothy Delaune, Professor Thomas Pasquarello and Assistant Professor Jeremy Wolf. The event begins at 12:15 p.m. in Old Main Colloquium (a change of time and venue).
SUNY Cortland graduate Carlos Malave '11, author and motivational speaker, will address "Let's Get to the Root" on Thursday, Feb. 6. Malave wrote Translating Your Success: The Student Guide to Transforming Your Small Wins Into Big Wins. The presentation, at 5:30 p.m. in Corey Union Exhibition Lounge, is organized by Multicultural Life and sponsored by Men of Value and Excellence, Women of Color, La Familia Latina, Know-Your-Roots Africana Studies Association, Ritmo Latino, and the Sociology and the Education clubs.
More events will be announced in the next Bulletin on Feb. 11.
Black History Month campus events will be posted online in the College's homepage calendar and on the Africana Studies Department and the Multicultural Life and Diversity Office web pages. Events are open to the public and free unless otherwise noted.
For more information or questions about Black History Month, contact Seth Asumah, Africana Studies Department chair and SUNY Distinguished Teaching Professor of political science, at 607-753-2064 or in Old Main, Room 208-B.
---