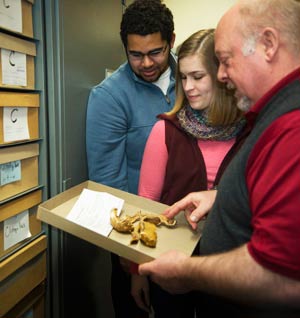 04/29/2014

Scientific knowledge is simply mushrooming for SUNY Cortland seniors Melcolm Crutchfield and Cassandra Elliott.
New species in the non-plant life form commonly called "fungi" are popping up all over the place, with a possible 1.5 million species suspected, of which only 100,000 have been described.
So Crutchfield and Elliott, a pair of budding biological researchers, have all they can do keeping up with photographing and entering identification and field notes about SUNY Cortland's impressive collection of fungi, that is to be part of a huge, national database.
They're collaborating in the College's recent participation in building the Mycology Collections Data Portal, a website that is the New York Botanical Garden's answer to anything anyone anywhere with a computer and curiosity about mycology might have.
The arrangement will help bring the College's world-class fungal collection into the Internet age, where formerly remote details will now be just a few keystrokes or mouse clicks away.
On a recent afternoon inside the College's Bowers Hall science building Elliott, a biology major from Whitney Point, N.Y., busily opened a small, cardboard box and after adding new barcodes to the box and information inside, photographed the specimen identification, and scientific notes using a classic Canon camera with macro lens mounted on a tabletop light stand.
Next to her Crutchfield, a conservation biology major from Locke, N.Y., entered these snapshots of information into an Excel database from a laptop plugged into output from the camera. The barcodes will make the specimens easy to track down later once the tiny box is labeled with them and carefully replaced among thousands of others in the College's moderate sized herbarium.
"I can do about 10 an hour," said Crutchfield recently as the materials passed rapidly between the pair. "To make things more interesting, sometimes I time myself in competition with Cassandra. So far, she's winning."
Melcolm Crutchfield and Cassandra Elliott consider a fungal specimen in a box, having just entered identifying information about the sample into a database that allows the College to share its existence with the scientific and hobby world.
Elliott cautioned that they understand the need to not rush their work.
"You have to concentrate when you're working on these images," she noted. "We learn how to go back and check for our mistakes but they can be very hard to find later."
The gigantic online herbarium represents four centuries worth of dedicated world-wide scientific documentation of the earth's plant and fungal diversity, according to its website. Approximately 3,400 herbaria in the world with roughly 10,000 associated curators and biodiversity specialists are involved in documenting an estimated 350,000,000 specimens from the Earth's vegetation.
Last fall, the College received a $30,000 Advancing Digitization of Biodiversity Collections grant through the National Science Foundation (NSF) and the project's lead scientific investigating institution, the New York Botanical Garden.
With the award, SUNY Cortland Distinguished Professor of Biological Sciences Timothy Baroni was trained at the New York Botanical Garden on how to manage the technical details of this online biology reference. Baroni is a mycologist, or fungi specialist. SUNY Cortland, with its share of the NSF grant funds, bought the camera, light table and supplies like barcodes and currently pays Crutchfield and Elliott to undertake this hands-on learning opportunity.
Faculty and students will work on the project through summer 2015.
"Questions will keep coming up on how to enter information into the database," Baroni commented, from his seat at a desk where he can keep an eye on his assistants. His efforts, assisted since the 1980s by a few graduate and many undergraduate students, have approximately doubled the size of the College's herbarium collection. The NSF over the course of the last 40 years has contributed close to $1 million to enable SUNY Cortland to collect, maintain and share its world-class fungal and plant collections.
Until now however, that collection has remained locked up in cabinets but sometime in the future will go live.
"It's really kind of a jewel for SUNY Cortland to have something like this," Baroni said.
For hundreds of years, scientists have identified new species by finding out what each others' collections contain and, for the sake of comparison, loaning interesting specimens to one another across state and international boundaries in order to produce scholarly publications, Baroni said. The process is easier, now. Take Boletus frostii — or Frost's bolete as it is more commonly known. Today a scientist or amateur enthusiast could quickly learn a lot about Frost's bolete — the species discovered by Charles C. Frost, an early amateur collector in Vermont — through the Mycoportal website. The individual can open a page that will contain Boletus frostii's scientific name and lineage, very precise description, pictures of dried or living specimens and a precise geographic positioning system (GPS) map of where this capped mushroom was harvested for a specific herbarium. Many examples may be posted to the page for each species, collected by different scientists working at different institutions across the United States.
That's amazing, considering that Boletus frostii is just one of 1,300 species in the Boletaceae, or porcini family of mushrooms alone; which in turn is among 177 families of the major fungi group called basidiomycota. Currently mycologists, that is, scientists specializing in this non-plant life form, have identified approximately 32,000 different species in basidiomycota.
SUNY Cortland's herbarium was named to a rather short list of college facilities in the U.S. working diligently to share their considerable wealth of information about their collections of dried specimens — collected both in this country as well as abroad.
Scientists from far away can investigate the unique qualities of this fungal specimen housed in SUNY Cortland's herbarium, thanks to a project to put information about it on the Internet. In the background students Cassandra Elliott and Melcolm Crutchfield can be seen photographing and entering information about the mushroom into the computer.
That enabled the College to join the Mycology Collections Data Portal project, which consists of a network of universities, botanical gardens, museums and agencies in the U.S. that provide taxonomic, environmental and specimen-based information on the biodiversity of macrofungi found in North America.
The College had founded its herbarium in 1908, when it was a modest teaching and research collection of plants from Cortland and surrounding counties, according to a history penned by Michael Hough, lecturer in the Biological Sciences Department, and posted on the College's herbarium website. Today the Cortland Herbarium specializes in plants of New York state, especially central and western and the Adirondack Park; and fungi, especially Agaricales and fleshy ascomycetes of the state, with a focus on the Adirondacks; and Agaricales and Boletales of northern California, Massachusetts, the southern Appalachian Mountains, the Gulf Coast, Central America, Mexico, South America and Caribbean basin islands.
"We have plant collections that date back to the 1890s and the (former) Cortland Normal School, some very important historic collections made by what appear to be former students and staff," Baroni said.
"Our fungal collections, obtained mostly by me and my many students over the past 34 years, are most likely numbering more than 11,000 and could be close to 12,000," Baroni said.
Baroni's budding scientists complete their work as part of a Bioinformatics independent study that culminates at semester's end with a research paper.
"The experience of learning how to organize everything is invaluable," Elliott said. "Most important to me is learning how to work with a very large data set."
The research work inspires Crutchfield and Elliott to set their sights on a graduate education in their chosen areas of biological science. Crutchfield aspires to earn a doctorate in conservation biology while Elliott hopes to work in wildlife management once she has a related master's degree.
Already they have a sense of having joined a wide, scientific community.
"While doing this work I noticed a familiar name, Tracy Armstrong Curtis '01," Elliott said. "Then I realized she was my professor at Broome Community College and she had collected the samples I am now cataloging."
Armstrong Curtis was one of Baroni's original research assistants that travelled with him to the Caribbean to collect and identify new forms of fungi on the first NSF funded project in 1996, Baroni said.
"I felt very excited to realize that," Elliott said. "I felt a connection."
Everyone who cares about human health and who cares about the planet should be interested in the database, according to Baroni.
Two miracle drugs produced from fungi are Penicillin, an antibiotic, and Cyclosporin, which enables organ transplantation.
"We have a medicine chest out there that we haven't event cracked the door on," Baroni said.
---