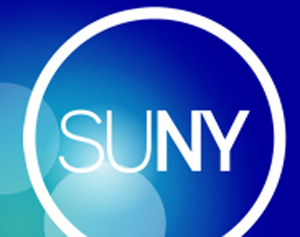 03/26/2012

Two teams of SUNY Cortland undergraduate researchers presented their work in chemistry and kinesiology last month at a SUNY-wide symposium in Albany, N.Y.
"Discovery: An Undergraduate Showcase," held Feb. 29 in the New York State Legislative Office Building, for the second consecutive year. The event included roughly 100 student-led poster sessions, covering an array of disciplines.
"There were a lot of people there and a lot of good conversations," said Virginia Martelli, a senior physics and chemistry double major from Cortland, N.Y. "It was a really cool experience."
Each of SUNY Cortland's teams included two student scientists. Martelli and Tyler Potter, a sophomore chemistry major from Queensbury, N.Y., showcased a research project on potential materials for use in electronics, titled "X-ray Diffraction Determination of Crystallization Kinetics in Zinc Silicate Germanate Films." Karen Downey, an assistant professor of chemistry at the College, advised their work.
John Roth, a senior kinesiology and physical education double major from Johnstown, N.Y., and Ayden Wilber, a senior kinesiology major from Woodstock, N.Y., authored "The Effects of a Short Term Cycling Bout on Run Economy." James Hokanson, an associate professor of kinesiology, mentored their project.
Joy Hendrick, a SUNY distinguished service professor of kinesiology, also served as a featured speaker at the event.
"Sometimes, it's hard to explain all of the things that we've done with our project," Martelli said. "We want to find out if either of two materials could be used for a light amplification device that would be implemented into optical circuitry.
"Right now, a lot of things use electronics and electronics are very inefficient," Martelli said. "Think about your laptop. It gets hot because you're pushing electrons through a wire and you're losing energy to friction."
An optical amplifier instead depends on photonics, a science that uses light.
"If light was used instead of electrons, less heat would be generated, and so there would not be a need to dissipate heat from heat-sensitive components," Martelli said. "So the space in a device that previously used fans or heat sinks could be used for something else."
She said their project requires a material that's not going to crystallize.
"Because if it crystallizes, the light will scatter, like in a prism," Martelli said.
The project that Martelli and Potter have undertaken tests different conditions for making materials. They then see if those materials will crystallize, searching for a material that will crystallize less.
"It's complex but interesting stuff," Martelli said.
Likewise, the research from Roth and Wilber validated important advice for triathletes.
"We basically showed the positive effects a warm-up can have on your running economy," Wilber said.
The pair studied a triathlete and a non-triathlete over two days. On the first day, both subjects ran and their running economies were measured. On the second day, both subjects biked for 20 minutes to simulate a short distance triathlon. After a short break that mirrored a triathlon's transition time, the participants ran again and their running economies were measured for a second time.
"We ended up finding there was an improvement in running economy for the triathletes," Wilber said. "And we attributed this to the fact that the cycling was a bit more of a warm-up for them."
Wilber said he soaked up the research presentation in Albany.
"Overall, it was a great experience," he said.
The Undergraduate Academic Programs and Policies Committee of the SUNY University Faculty Senate sponsored the event and SUNY Cortland's Undergraduate Research Council provided additional funding.
---